This issue of The Lutheran Witness tackles a difficult topic. Typically, when we approach difficult, contentious topics, we are told to "keep an open mind." We invite you to approach this issue not with an open mind, but an open Bible. Do not check to see if we are being fair and loving; check to see if we have been faithful to God's Word and what He has said to us by His apostles and prophets.
"Male and female he created them," the Scripture says. And in that creation, God ordered the relation of the man and the woman, of Adam and Eve. Created first, Adam was made the head of Eve, who was made from his side. Then the woman and her husband fell into sin. As a result, they lived in conflict and disorder; they no longer lived in perfect relation to God or one another.
The relationship between man and woman, which culminates in the gift of marriage, serves as a reflection of God's redeeming work for His chosen children. Throughout the Old Testament, God portrays His relationship with Israel as a marriage; St. Paul also declares, "I am saying that [marriage] refers to Christ and the church" (Eph. 5:32).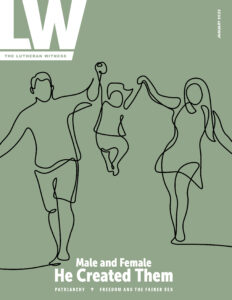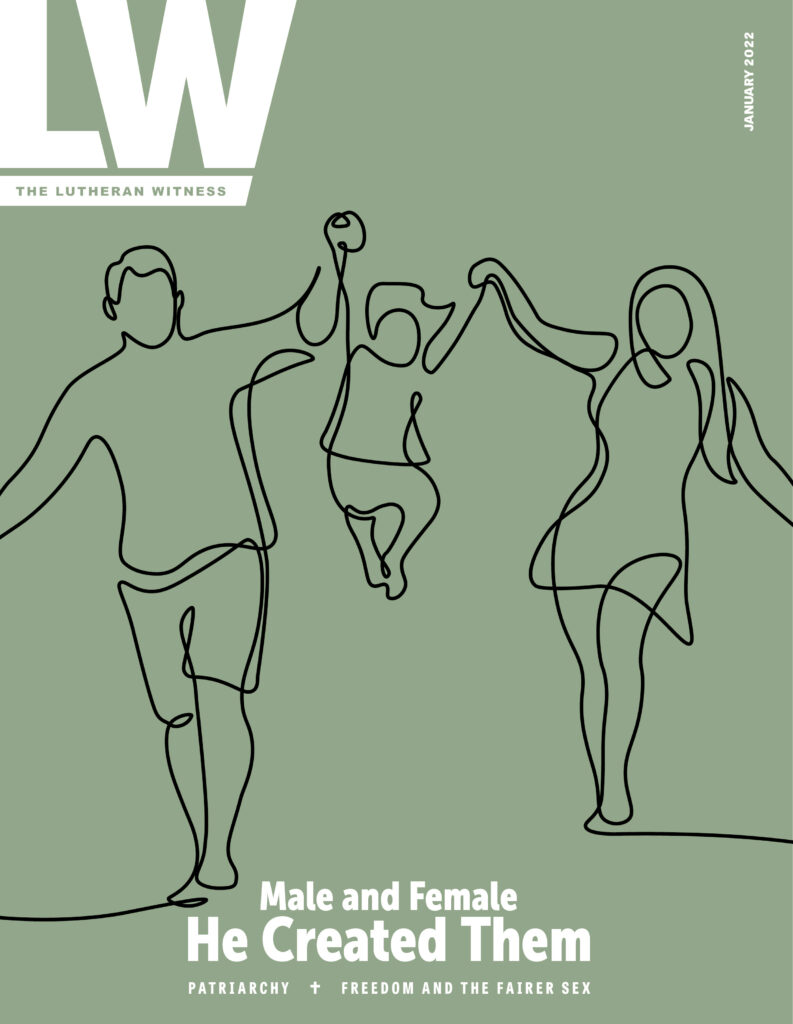 With the gift of marriage and the relationship of men and women so freighted with theological importance, we are not surprised to see Satan attack this gift. By corrupting the way men and women understand their relationship to one another, Satan seeks to corrupt the way we understand our relation to God.
And so, Satan has inflamed the tensions between men and women as feminism has promoted an ungodly egalitarian view of men and women. So also the world has denigrated men and rejected the good and godly patriarchy. Our culture mocks and ridicules fathers as objects of scorn. If you doubt it, reflect a bit on how fathers and men are portrayed in recent children's movies.
Read on in this issue of The Lutheran Witness to learn more about how to approach these themes as a Lutheran. Once again, we ask you to approach these articles not with an open mind, but with the Word of God. Read the passages we quote. Study other passages alongside this issue; then judge this issue based on the Word of God.
Two other noteworthy items in this issue: First, we changed the look and feel of the magazine a bit and moved some regular columns and topics around. We are not changing for the sake of change but seeking to reflect in our design a renewed emphasis on words and teaching. The purpose of this magazine is to teach the Word of God. We believe the updated design will help.
Second and finally, we have included a new feature: a fiction series by Katie Schuermann. Beginning this month and lasting to the end of the year, Katie will write one story for every issue of The Lutheran Witness. We hope you enjoy them as much as we have.
Rooted in Christ,
Roy S. Askins
Managing Editor, The Lutheran Witness