by Rev. Jerry Kieschnick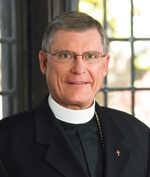 Have you prayed for a young man or young woman—or for all our young people—today?
Young people are on my mind because I have just returned from our Synod's National LCMS Youth Gathering in Orlando. The July 28–Aug. 1 event brought together some 25,000 young people and leaders—from more than 1,780 congregations in all 35 districts—along with thousands of volunteers.
This is also the time of year when our young people go back to school, where they are preparing for the various callings in life—vocations—that God has in store for them.
That's not to say that our youth do not already have God-given vocations. They do. God has called them to be sons and daughters, brothers and sisters, students, and Christians, just for a start. But I am thinking about the work they will do when they reach adulthood.
Some will become professional church workers. Recruiting young people for church-work careers is absolutely vital for the future and health of our congregations, schools, and other ministries. Please encourage young people who you believe have the necessary gifts to consider careers in church work.
We can thank our gracious God, too, for all those Christian young people who are called to other careers. They, too, are gifts of God.
Many thanks to you pastors, teachers, directors of Christian education, parents, and others for your godly support of young people in your particular spheres of influence as they address the question, "What am I going to do when I grow up?" Your counsel and guidance will help them gain clarity about the vocations to which God is calling them.
Through Holy Baptism, we are children of God. Young people, no less than we older Christians, are included in the words of Peter: "But you are a chosen people, a royal priesthood, a holy nation, a people belonging to God, that you may declare the praises of him who called you out of darkness into his wonderful light" (1 Peter 2:9).
"CHOSEN" was the theme of this year's National Youth Gathering, and it was based on that passage. It is a major purpose of our youth gatherings to help our young people grow in their understanding of who they are as CHOSEN ones of our gracious God.
Over the past 30 years, more than 200,000 young people directly and many more people "back home" have been blessed by 10 LCMS youth gatherings. This year's Synod convention adopted a resolution of support for these events, which, the gathering purpose statement says, are to "provide opportunities for youth and adults to boldly come together in the name of Jesus Christ to proclaim, celebrate and witness their salvation through Him, rejoice in the fellowship of their church and be affirmed and nurtured in their lives as God's people through Word and Sacraments."
The convention resolved that:
"the LCMS give thanks to God for His blessings on the National LCMS Youth Gathering and for the literally thousands of persons who have participated in these events and worked on behalf of these events."
"the LCMS express its continued support for these significant events in the lives of young people, their congregations, and in the Synod as a whole."
"we express our appreciation and support to the LCMS Board for District and Congregational Services and the National LCMS Youth Gathering Executive Team (Steering Committee) for their faithfulness in providing opportunities for our youth through the National LCMS Youth Gathering."
When I read this to the young people at this year's gathering, they applauded, shouted, and raised the roof—they made a loud and joyful noise of appreciation, knowing that these words had come from representatives of their congregations and circuits.
Then I reminded them, and I remind you now, that because of God's love in Jesus, you and I are included in the words of the gathering's theme verse. You, too, are a chosen people, a royal priesthood, a holy nation, a people belonging to God that you may declare the praises of Him who called you out of darkness into His marvelous light.
CHOSEN. That's you! That's me! Let's declare His praises!
e-mail: president@lcms.org
Web page: www.lcms.org/president
—
" />" />" />" />