by Rev. Andrew Simcak Jr.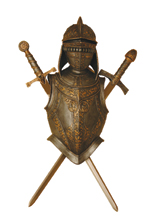 Whether you know it or not, you, dear Christian, are at war!
We need to man our battle stations because we are in a life-and-death struggle against enemies determined to overcome us for time and eternity. The war began in Eden's garden when our first parents, Adam and Eve, brought sin into the world when they disobeyed God's clear command as accounted in Gen. 2:16-17 and 3:1-7.
How can we win our daily war? Here is God's battle plan: Through the suffering, death, and resurrection of Jesus Christ, He has made it possible for us to know and believe with certainty that the eternal war against sin, death, and the devil has already been won. And we can win the daily battles we confront in our lives against our three greatest spiritual enemies: the devil, the sinful world, and our own sinful nature.
The eternal war is over! None of us could have won this war through our own strength and power. It is only because of what Christ has done for us that we are – "more than conquerors through Him Who loved us" (Rom. 8:37).
How has Christ won the eternal war?
SIN:
He has saved us from the guilt and punishment we all deserve for our sins. Take time right now to read 2 Cor. 5:21, Gal. 3:13, 1 Peter 2:24, and John 1:29.
DEATH:
We need never fear temporal death since eternal death has no power over us. Now read 1 Cor 15:55-57, 2 Tim. 1:10, Heb. 2:14-15.
DEVIL:
Christ overcame the devil and conquered him for us. Gen. 3:15, 1 John 3:8, and Rev. 12:10.
Even though the war has been won for us, the battles still rage in our daily life. St. Paul gives us a battle plan to win these. Prayerfully read Eph. 6:10-20 and ask God to help you – "put on the whole armor of God" (verse 11).
God encourages us to put on all of the armor He provides for our daily use. Even as U.S. soldiers in Iraq put on their full armor to protect themselves in the war against the enemies, so the Christian warrior needs to use the full spiritual armor.
– "Stand firm with the belt of truth buckled around your waist." A vital part of our spiritual armor is our personal moral purity in our daily lives. We are to be Christians not only in name, but also in word and deed. Others should see that Christ lives in us (Matt. 5:16; John 8:31-32).
– "The breastplate of righteousness in place." This is the righteousness Jesus earned for us through His suffering, death, and resurrection. He made us right with God through what He did for us as our Substitute, just as explained in Is. 59:17 and Rom. 4:13.
– "Your feet fitted with the readiness that comes from the gospel of peace" (verse 15). We can live with heads uplifted and hearts unburdened because Jesus has given us His peace. The road of life is bumpy with many detours and Satan's deadly road-side bombs. So read John 14:27 and Heb. 13:20-21 and know that you have been equipped to win.
– "Take up the shield of faith" (verse 16). We trust in Jesus and only in Jesus to shield us from the power of our three greatest spiritual enemies. Read Rom. 5:1-2 and Eph. 2:8.
– "Take the helmet of salvation" (verse 17). By God's grace we have the certain hope of salvation for eternity, as St. John tells us in his Gospel in 3:36 and 11:25-26.
– "Take the sword of the Spirit, which is the word of God." As Christian soldiers, we needs to know and believe all of it – the Old and New Testaments, all 66 books, Law and Gospel – and then put it into practice in our daily lives. Ps. 25:5 and 2 Tim. 3:16-17 give us clear direction on this.
Onward, Christian soldier! Engage the enemy with full confidence of victory in Christ!