by Ron Nelson
Expansion begins in Novosibirsk, Siberia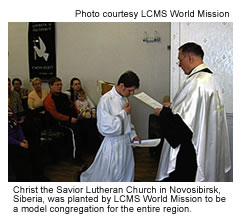 Thanks to a designated gift from a donor, Fan into Flame has sent $15,000 for the permits to begin construction of an expanded worship and training center at Christ the Savior Lutheran Church in Novosibirsk.
Located in the Siberian Federal District, Christ the Savior serves as a multiuse facility. It provides areas for worship and instruction, a theological library, and materials distribution. Expansion of the training function means students will not have to travel long distances (up to three days each way) to other training centers. The upgrade will help the Evangelical Lutheran Church of Ingria in Russia (ELCIR) gain a greater capacity to manage its own mission outreach.
Remodeling also will enable Christ the Savior to grow and hopefully attract 100 families. The LCMS Board for Mission Services calculates that when the remodeling is completed, the sanctuary will hold 120 people—allowing the congregation to have sufficient resources to become self-supporting.
The entire project will cost $150,000. Fan into Flame will provide the full amount. The ELCIR intends construction to be well underway before the harsh Siberian winter begins.
---
Mosaic—a multiethnic multigenerational church start
The California-Nevada-Hawaii District is an early recipient of Fan into Flame funds. One of the district's "Judea" (cross-cultural) projects is its new Mosaic Ministry. This ministry brings the Gospel to several large population groups of "1.5 to 2nd" generation immigrants.
The first celebration event early this year was successful—210 people attended. Represented were people from Brazil, Columbia, Eritrea, Ethiopia, Ghana, Guatemala, India, Iran, Liberia, Mexico, the Philippines, the U.S., and Vietnam.
Pastor Tesfai Tesema presented the vision for Mosaic. The worship team of one of the host churches, Mount Olive Lutheran, Milpitas, Calif., assisted with the event.
South Bay Mosaic is a multiethnic church plant of the CNH District in collaboration with its Circuit 18 congregations. It is hosted by Mount Olive and First Immanuel, San Jose, Calif.
Mosaic was able to achieve its main goal, which was to rally people for the creation of a new worshiping community. There will be three more events before the public opening of the church.
Mosaic's three-year plan calls for:
150 families gathering for worship, with 20 adult home Bible-study groups;
more than 100 children in a multiethnic ministry;
serving 50 or more men and women through GED, ESL (English as a second language), and counseling programs;
50 children reached through tutoring, sports, language classes, or spiritual retreats;
30 leaders trained.
---
Fan into Flame is the national campaign in support of the Ablaze! vision of LCMS World Mission and its partners to share the Gospel with 100 million unreached or uncommitted people globally by 2017.  The campaign, approved by the 2004 LCMS convention (Res. 1–04), supports outreach activities of Ablaze! and seeks gifts of $100 million by 2010.
Fan into Flame unrestricted funds are distributed quarterly based on an Acts 1:8 model: "You will be my witnesses in Jerusalem… Judea and Samaria, and to the ends of the earth."  Of the net proceeds, distributions consist of:
• 15 percent to participating congregations;
• 15 percent to the district;
• 20 percent for national mission projects;
• 50 percent to fund LCMS World Mission global projects.