by Jerry Kieschnick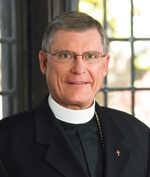 What hopes, dreams, or goals do you have for the future for yourself and for your family? What about for your church?
For a number of months, I have been sharing with leaders of our Synod, districts, and congregations six hopes, dreams, and objectives that I have for the Synod in the years ahead. Over the course of the next four months, I want to share them also with you, beginning with the first two:
Keeping the main thing the main thing
Our Lord's mission to reach lost people for Christ is and must remain our central focus and the reason for our existence as a synod.
As individual Christians and congregations, we are gathered together under God's Word and Sacraments, freely and voluntarily bound together by Holy Scripture and the Lutheran Confessions. Our commitment to Christ and to God's kingdom is fueled by the grace of God in Christ our Lord.
We share the apostles' profession in Acts 4: "Salvation is found in no one else, for there is no other name under heaven given to men by which we must be saved….[W]e cannot help speaking about what we have seen and heard."
A couple of months ago, I met with a group of pastors whose congregations have seen significant numbers of adult confirmations. Pastor Roberto Rojas of Esperanza Viva (Living Hope) Lutheran Church, Orlando, Fla., told about asking in his congregation how many people are willing to make a difference in the spiritual lives and eternal destinies of others. "We are missionaries; we are the people of the Lord," he says. He equips his people to invite others to church and to share the Gospel with others.
This is keeping the main thing the main thing.
If we are to remain a confessional church body, our confession must be heard. It's no longer sufficient simply to post worship-service times on the church sign and expect people to flock in. Our Synod's mission statement says it well: "In grateful response to God's grace and empowered by the Holy Spirit through Word and Sacraments, the mission of The Lutheran Church Missouri Synod is vigorously to make known the love of Christ, by word and deed, within our churches, communities, and the world!"
Restoring health and vitality in congregations of the Synod
In my travels across the Synod, I am frequently struck by and constantly concerned about the number of LCMS congregations that continue to shrink and, in many cases, face the prospect of closing. While many pastors and lay leaders are serious about reversing the trend of decline, others appear either unwilling or unable to make the significant commitment of time and energy required to restore their congregation's health, strength, growth, and vitality.
Among those who have made this commitment are Pastor Craig Whitson and the people of St. Paul's Lutheran Church in Malcolm, Neb., population 300. This rural congregation emphasizes personal spiritual growth and strategies to reach people outside the congregation seeking opportunities to invite friends to church, for example.
Pastor Whitson reports that since 2002, church attendance has increased from 90 to 115 weekly; per-member contributions have increased "substantially"; attendance at midweek school is more than four times what it was, growing from a dozen to 60; Sunday-school attendance has doubled; and vacation Bible school has seen a three-fold increase. Now, the congregation is supporting a church-planter in a growing area of Lincoln, 12 miles away.
Pastor Whitson encourages the congregation to "step out in faith and attempt bold things for the Lord." He says the people of St. Paul's have come to see that they don't have to operate "in survival mode" they "trust the Lord to care for them and use them successfully in His service."
A very real challenge facing the LCMS is helping all our congregations' leaders to focus significant effort and resources on taking the Gospel beyond the four walls of sanctuary and classroom. This concern is being addressed by our national Synod, districts, circuits, seminaries, and universities, but your help is important, too. What can you do to help your congregation reach others with the Good News of Jesus Christ?
Next month, I will share another of my hopes and dreams for our Synod. Until then, may our Lord richly bless you and your congregation!