by Kim Plummer Krull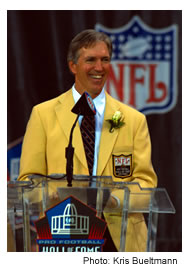 "God was in the first draft."
Star National Football League cornerback Roger Wehrli isn't talking about the annual NFL selection of quarterbacks, linemen, and such, but about his painstaking choice of words for the eloquent, moving speech he gave at his induction into the Pro Football Hall of Fame.
After thanking coaches, teammates, fans, and family, the former member of the St. Louis Cardinals (1969–82) and current member of St. Paul's Lutheran Church, Des Peres, Mo., thanked the Lord.
"Finally, many of you know me as a man of faith," Wehrli, 59, told the thousands who attended the Aug. 4 ceremony in Canton, Ohio, and the millions more who watched the nationally covered event. "I believe that God has guided each and every move I've made. He's put the right people in the right places to bring me here, and I thank Him with all my heart for taking a little guy from a little town (King City, Mo.) with little dreams and making me fit to wear the title of Hall of Famer."
While such a witness by a famous professional athlete on such a celebrated platform may surprise some, the more than 50 St. Paul's members who attended the ceremony probably expected it.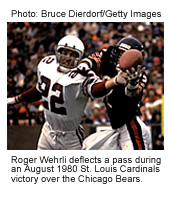 Soon after the seven-time Pro Bowler was invited to join the NFL elite in Canton, Wehrli and his wife, Gayle, extended an invitation to their congregation to come along.
"Certainly, God gifted Roger on the athletic field, but that's who he and Gayle are—Christian people," said Rev. Jeremy Schultz, who got to know the couple when he was associate pastor at St. Paul's, Des Peres, and trekked to the induction festivities from his current church, St. Paul Lutheran Church, Royal Oak, Mich.
"It sounds funny, but the whole experience was a somewhat spiritual one," Schultz said of the enshrinement. "Roger identified himself as a man of faith, and also referenced his class of inductees (six fellow football stars) and their collective faith and that deep bond they share. It was a strong, Christ-centered witness."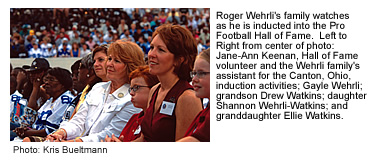 The Wehrlis joined St. Paul's in the 1970s when children Shannon and Michael attended school there. Today, daughter Shannon Watkins teaches at Messiah Lutheran School, and the three Wehrli grandchildren attend Messiah and Immanuel Lutheran schools, all in St. Charles, Mo. The former cornerback is now vice president of FormStore Inc., a manufacturer of printed business forms.
For this self-described man of few words, spotlighting his faith in the biggest speech of his life came with the same conviction as making a touchdown-saving tackle.
"Obviously, you have to thank God for the talent He gives you in the area of athletics," Wehrli said. "Sure, the coaches and your parents have a big influence on your life, but the bottom line is that it all comes from God. That was important for me to say."
—