Kelley Warneke and Lynn James: Two students share their thoughts on a Concordia education.
Kit Nagel: a Passion for International Business In and Out of the Classroom
Kelly Warneke: Extraordinary Opportunities
It's not easy to catch up with Concordia Irvine senior Kelly Warneke. A double major (director of Christian education and English), Warneke is also the mission coordinator for the university's campus chapel, a member of the school's debate team and hand-bell choir, and a resident assistant.
We finally snagged Warneke shortly before she embarked on a weekend mission trip to Mexico. Although as the organizer she was busy with last-minute details, Warneke took a few moments to reflect on her experiences as a Concordia student.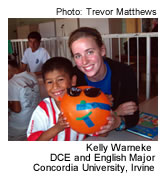 Because her parents attended Concordia, Seward, and because she grew up in an LCMS family, attending a Synod school was always in the back of her mind, Warneke says. Yet when it came time to submit her college applications, she did not limit herself to institutions in the Concordia University System. She applied to nearly a dozen schools and was accepted, not only at Irvine, but also at several prestigious private universities around the country.
"As I considered my options, I realized that despite some of the positives of other universities, I was drawn to Concordia's great professors, community feel, and Christian environment," Warneke says. "While I might have received a great education in terms of academics at another school, I knew that in a large, secular university I would probably not have the same opportunities that I would have at a Concordia to get involved in extracurricular or leadership activities."
A visit to Irvine's campus sealed the deal. "It seemed like an exciting and dynamic place to be," Warneke explains. "The professors and students were excited about learning and growing in their classes, and in Christ, and I wanted to be a part of that type of environment."
Irvine's location didn't hurt either, adds Warneke, who grew up in San Pedro, Calif.
"It's close to just about everything in southern California–Hollywood, Disneyland, musical theatre, San Diego, the beach, the mountains, the desert, and everything in between! Yet it's in a nice, relatively small, and very safe community."
Looking back, Warneke says she has no regrets about her choice of a school. Concordia Irvine has offered her a first-class education and an extraordinary opportunity to grow as a person. Not only has she benefitted from the school's emphasis on a solid liberal-arts education, but the many extracurricular opportunities have been a blessing, too.
"Over the past four years I have been involved in all sorts of activities–music groups, daily chapel, Bible studies, fun social events, mission trips, intramural sports. I have traveled to China and the East Coast on tours with my hand-bell group and to Salt Lake City and San Antonio with my Ethics Bowl (debate) team. I have learned how to be a leader as a resident assistant and as the coordinator of local mission trips. All of these have helped me grow, not just academically, but emotionally, socially, and spiritually."
After graduation this spring, Warneke will participate in a summer mission trip to Hungary before she begins her DCE internship in the fall.
"Down the road, I can definitely see myself serving overseas as a missionary DCE," Warneke says. "I am especially interested in working in Spanish-speaking countries, but I'll have to see where God leads me."
Warneke says she would "wholeheartedly" recommend a Lutheran education to others.
"I love all of the things that Concordia offers, and I think every Concordia benefits by their partnership with the others," she explains. "I think Concordia's Lutheran heritage plays into our campus in just the right dose. In classes and around campus, things are filtered through the Lutheran worldview, and our Lutheran foundation is obvious in things like chapel and theology classes."
At the same time, Warneke says she does not feel sheltered from "the real world."
"There are non-Christians on campus and many people from other Christian denominations," she says. "This provides exciting opportunities for dialogue and interaction with people of other beliefs."
Lynn James: Help with Overcoming Obstacles
Lynn James is proud of who she is: Native American, African-American, mother of three. Now she can add college graduate to the list.
Prior to arriving on the campus of Concordia University, Portland, James spent 11 years as an alcohol and drug counselor for a nonprofit agency. Although she had the keys to the office and regularly trained staff, she realized those with college degrees got the promotions and raises.
Hearing that Concordia University offered a bachelor's degree in social work, she submitted her application, not expecting to be admitted and thinking she couldn't afford it. James says she'll never forget the day the financial-aid letter cleared the way.
Since then she's become a strong advocate for Concordia University. As a Native American with ties to the Yakama, Cowlitz, and Nisqual tribes, she's developed a reputation as an educational resource about Native American culture.
She jokes that it took a village for her to earn her degree. Without the help of her mother, godparents, and understanding Concordia, Portland, professors, there was no way she could go to school, work two jobs, and raise her three children. Just when she felt like throwing in the towel, God would open doors, she says. Many times those doors came in the form of a Concordia instructor shifting a deadline to ensure she had an opportunity to complete her studies and succeed.
James, who received her bachelor's degree in 2006, respects education as a valuable part of a person's growth. Not only has her self-esteem increased, but she's noticed her children's school performance has improved by following her example. Next, James says, she plans to get her master's in public administration and eventually give something back to the Native American community that has shown her so much support.
—
---
Kit Nagel: a Passion for International Business In and Out of the Classroom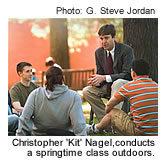 Some may call it a second career, yet Christopher "Kit" Nagel sees college teaching as a continuation of his interest in international business.
"I had a very interesting career in international business and enjoyed that hugely, but I also planned to do something for the greater good, specifically for the benefit of the church," says Nagel, assistant professor of business and chair of the business program at Concordia College, Bronxville, N.Y.
"American companies, American managers–we just don't have enough of them for the burgeoning global economy," Nagel adds. "This is part of my motivation–to help educate international managers. I can wax eloquent about this; I really care about it."
Nagel joined the faculty in 1999 and teaches international management, cross-cultural communication, and political and economic systems in developing countries. During 20 years in his "former life," as he calls it, he was the marketing manager for Asia with International Paper and a vice president for commercial development for Servrite International. Both roles were global.
Nagel calls himself the beneficiary of a Lutheran education. He says it gave him a good liberal-arts foundation and broad horizons. "And I think there is a connection with the Great Commission in my world of global issues and training managers to operate globally." He adds that congregations also need capable lay leaders.
Quality teaching and attention to students are "part and parcel" of Lutheran education, according to Nagel. Beyond the classroom, Concordia faculty help students find internships, locate their first jobs, write recommendations for graduate school, and stay in touch after they graduate. "We have hundreds of business majors, and by the time they graduate, I know them all," he says.
Nagel says he adds another Lutheran aspect to his teaching: "With a twinkle in my eye, I quote Martin Luther to my international marketing class: 'I shall say nothing here about the pure pleasure a person gets from having studied … He can read all kinds of things, talk and associate with educated people, and travel and do business in foreign lands.'"
About teaching at a Concordia, Nagel says this: "You really need to understand the academic discipline and your area of knowledge and have confidence that you have the people skills and instructional skills to convey that." Then he adds, "This may sound harsh, but it's not enough to just mean well."
He also enjoys his duties as director of international studies. "Students come back different. For example, 18 of our students are going for a month this summer to study in Beijing, China. To me that is priceless–beyond the academic value. This is broadening of cultural horizons. They really do come back different."
Nagel received his bachelor's degree from Valparaiso University and a master's degree from the America Graduate School of International Management.