by Stacey Welcenbach
About twice the size of New Hampshire and home to 8.5 million people, the Dominican Republic has one of the fastest economic growth rates in this hemisphere. However, marked income inequality remains, and about 40 percent of people live in poverty. Unemployment is near 28 percent, and the average annual income per person is $1,600.
The members of St. Michael Lutheran Church, Fort Myers, Fla., became aware of the needs of people in the Dominican Republic when they began mission trips a few years ago to Santiago, their Dominican sister city. Particularly troubled by the lack of services for people with developmental disabilities and by poor institutional conditions, St. Michael started financial and volunteer support for the Home of New Hope—a small, privately funded residential care facility.
In 2003, St. Michael approached Bethesda Lutheran Homes and Services of Watertown, Wis., an LCMS recognized service organization that serves people with developmental disabilities. Bethesda began providing training and resources for the Home of New Hope. This led to work with other local agencies—such as Dominican Childcare—to train workers in sharing Christ's love with children with disabilities.
In fall 2004, LCMS World Mission, LCMS World Relief and Human Care, Bethesda Lutheran Homes and Services, and the Central American Lutheran Mission Society (CALMS) signed an agreement to expand the work of St. Michael and Bethesda. This first-of-its-kind coalition sought to bring a collaborative approach to opening fulltime mission work in the Dominican Republic.
"This is a unique opportunity for Bethesda to partner with the LCMS to establish a Lutheran church presence that tells people the Good News of Jesus and seeks to include people with disabilities and their families from the very beginning," says Rev. Earl Bleke, chief religious-life officer for Bethesda.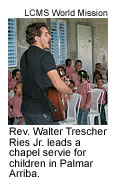 By God's grace, in August 2005, the partners celebrated the installation of missionaries in the Dominican Republic. The team includes Brazilian-born and Evangelical Lutheran Church of Brazil-trained church-planting missionary Rev. Walter Trescher Ries Jr., and LCMS World Mission developmental disabilities outreach missionary Danelle Putnam.
Putnam, who spent six years in Panama organizing Sunday-school and evangelism programs with a special emphasis on women and children, explains that the work in the Dominican Republic involves two main aspects: (1) theological education and servant-leader training for the formation of a Dominican Lutheran church and (2) outreach to persons with developmental disabilities.
"We are currently supporting three Dominican leaders in their church-planting efforts—two in Santo Domingo, the capital city, and one in Santiago, the secondlargest city," Putnam says. "We are also working on raising up leaders in Palmar Arriba, a rural town outside Santiago, to be leaders in a church-planting effort there."
The following highlights the work in which Ries and Putnam are engaged.
---
SANTO DOMINGO: MEET JOSEPH

Joseph de la Cruz is a Dominican-Haitian living in Santo Domingo. "From the very beginning, we saw Joseph's commitment to the Lutheran church, but it took time for him to open up," Putnam says. "He came to every single class and devotion time. He was absent only when he visited his family in Haiti. Pastor Ries began to mentor him, suggesting books he could read on Christian leadership. We also began praying for him, and Joseph remained faithful to spending time in God's Word."
In the past few months, Putnam and Ries have observed a change in Joseph's personality. "His whole facial expression has changed," Putnam says. "He is smiling all the time, excited about ministry, inviting people to church and activities, and beginning studies to become a Lutheran pastor."
De la Cruz even lends an important hand to Ries and Putnam. "He has started coming along with me on visits to a home for children with developmental disabilities," Putnam says. "We teach songs, share Bible stories, and help the children learn how to pray."
---
SANTIAGO: 'AMIGOS DE JESUS'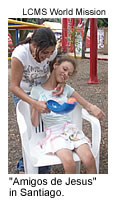 As a means to reach out to people with developmental disabilities and their families in a community about 15 kilometers (nine miles) outside Santiago, Putnam began "Amigos de Jesus" (Friends of Jesus), a community-based Bible club.
Once a month, participants share a Bible story, play games, sing, pray, do a craft, and have a snack. "The participants and parents have been thrilled with the activity so far," Putnam says. "Right now, we just have one "Amigos de Jesus" club, but soon we will be expanding."
Community volunteers will lead the clubs, Putnam explains. "The programs are designed to be extremely cost-effective so they are not a burden for parents or leaders. For example, we use recycled materials for crafts and take turns bringing a simple snack. The Lord has also provided four great women volunteers from the local community."
Putnam meets with the women monthly for planning and training. Each became a volunteer knowing she would be leading the group on her own in the future. As many as eight children, youth, and their parents have participated in the initial club sessions.
---
PALMAR ARRIBA: OUTREACH THROUGH BASEBALL

Ries and Putnam connected with Edward, a 16-yearold catcher, in early 2007 through a baseball clinic in Palmar Arriba. The well-received clinic was hosted by CALMS and a team led by Palmer Muench from the Brandenton Sports Academy in Florida.
"Thank the Lord for the commitment of Edward, who has been coming to Wednesday evening services since February and plays drums in the praise [band]," says Putnam. "Please pray for Edward as he develops into a young leader, and praise the Lord for blessing Edward's efforts to share the love of Jesus."
Putnam adds that Edward also asked Pastor Ries to lead a Bible study at his home. The meeting had to be held outside because more than 150 adults attended. "Thank the Lord for all who attended and pray that more people of this community will come to hear God's Word," Putnam says. "Also, pray for the baseball coaches in the Palmar Arriba area. Pastor Ries has been able to form a friendship with all of them, and daily they are responding to God's love and the Holy Spirit's prompting to share this love with the children and youth they coach."
---
PARTNERS: CHANGING LIVES IN SANTO DOMINGO
During the biennial Dominican Republic Partners Forum in August, Willy and Santa Gaspar were invited to share how the collaborative ministry is changing their lives.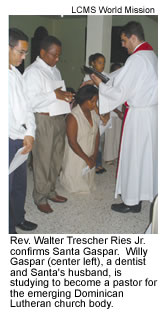 In 2005, God miraculously brought together dentist Willy Gaspar and Jim Pressnell, then director of the Central American Lutheran Mission Society (CALMS). Gaspar and a group of friends and colleagues had seen the film "Luther." They were interested in studying Lutheran theology and wanted to participate in the formation of a Lutheran church in the Dominican Republic. On the day Rev. Walter Trescher Ries Jr. and LCMS World Mission outreach missionary Danelle Putnam were installed, Gaspar and a group of 13 came to Santiago from Santo Domingo for the worship service.
Now two years later, the Gaspars told the partners how they have seen the power of the Word of God manifested in their marriage and their family life. He had never seen marriage as a life commitment, Gaspar said. Now, he added, he better understood his roles as a husband and father, and this change led to better communication and more unity in the family.
Today, Gaspar is one of three men enrolled in studies with Ries to become a Lutheran pastor for the emerging Dominican Lutheran church body. Both Gaspar and his wife are leaders in Las Americas, a developing Dominican community of about 300 families.
There is only a small Pentecostal church in Las Americas.
"It is our prayer that soon there will be a Lutheran church with Willy as the pastor," says Putnam. "Already, the community sees Willy as a spiritual leader. People have come to the Gaspar's house for spiritual help and prayer in the middle of the night. The activities that we have held in the community have been well received and well attended. People are already seeing Willy as their pastor, as they know he is studying to become one."
Recently, a new building was dedicated in Las Americas, Putnam adds. "At least 300 people attended, and Willy was asked to pray, lead a devotion, and offer the benediction. Willy had the opportunity to speak of Christ's love and salvation and offer himself as a spiritual public servant for the community."
Through the Holy Spirit working in missionaries, Dominican leaders, and partners, hundreds of adults and children are receiving the hope and Good News of Jesus Christ, observes LCMS World Mission Latin America regional director Rev. Jorge Groh.
So great are the opportunities, that at their forum, the partners agreed to call another pastor to help with the work, as well as to involve local church leaders in developing a strategy for the next few years.
"Praise God for His blessings in the Dominican Republic," says Groh. "Pray for the Lord's guidance in the calling of a pastor to be gifted in mentoring and training national leaders, as well as complementing the current mission team."