by Rev. Jerry Kieschnick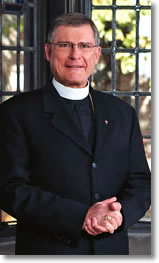 Rev. Stephen Wiggins Sr. is an urban missionary in the Atlanta, Ga., area. It's his job to work with Lutherans there to start new ministries that will reach more people for Jesus Christ.
Placing a full-time missionary in Atlanta—or any other place in the world—does not just happen. It takes planning, and it takes money. Pastor Wiggins is reaching people with the Gospel thanks to LCMS individuals and congregations who have been part of Fan into Flame, the first Synodwide capital campaign in more than two decades.
The 2004 Synod convention authorized the campaign, which has a goal of raising $100 million for Gospel outreach by 2010. In the same resolution (2004 Res. 1-04), the Synod voted to "accept the challenge of Ablaze! and commit itself under God's guidance to the task of working together to share the Good News of Jesus with 100 million people by the 500th anniversary of the Reformation in 2017."
The convention noted, "The opportunities that God has placed before us require additional resources at the congregational, district, national, and international levels." And so it authorized Fan into Flame to provide those new resources, which willfund these strategic initiatives to share the Gospel with those who do not know Christ:
Start 2,000 new LCMS ministries in the United States.
Revitalize the mission of 2,000 existing LCMS congregations.
Increase by more than 50 percent the number of full-time LCMS career missionaries on foreign mission fields.
Provide assistance to the Missouri Synod's partner churches around the world.
The first initiative, planting 2,000 new LCMS ministries, was given a jump start by a $500,000 grant from Thrivent Financial for Lutherans. The funds will help "covenant congregations"—LCMS congregations who agree to help plant up to four new congregations each—start new work.
What's more, 87 LCMS congregations are well into the two-year revitalization process, which is designed to transform their sense of mission so that they become "mission outposts." Being a mission outpost means, among other things, that a congregation sees its own community as a mission field.
What a blessing it is when individuals and families respond to God's calling to leave the familiar and go to overseas mission fields that have yet to hear the Gospel. While the LCMS has been blessed with hundreds of volunteers who serve as short-term or long-term missionaries, the Synod has only about 60 career missionaries at present. We want to increase that number to at least 100.
Some of our partner churches around the world began as LCMS missions; others are even older than the Missouri Synod. All of them have the advantage of not having to cross language and culture barriers to share the Gospel with their own people. But all of them are also smaller than the LCMS, most of them much smaller. Fan into Flame is giving us the wherewithal to help support their Gospel outreach.
The Fan into Flame campaign will be conducted in all of the Synod's 35 districts, but not all at the same time. About a third of the districts already have completed or are conducting the campaign, a third are getting ready, and a third have not yet started.
To date, $31.4 million in pledges—more than $14 million of that already paid—have been made to Fan into Flame to help us reach more people with the Gospel.
If you have not yet participated in Fan into Flame— maybe you haven't even heard about it—ask your pastor how to take part. You also may contact your district office or LCMS World Mission.
Prayerfully consider how God has blessed you and your family. His Word encourages us: "Each man should give what he has decided in his heart to give, not reluctantly or under compulsion, for God loves a cheerful giver. And God is able to make all grace abound to you, so that in all things at all times, having all that you need, you will abound in every good work" (2 Cor. 9:7–8).
e-mail: president@lcms.org
Web page: www.lcms.org/president