by Rev. Jerry Kieschnick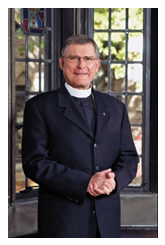 You are reading a very special issue of The Lutheran Witness. Its focus is on people and institutions of The Lutheran Church—Missouri Synod bringing the Gospel of Jesus Christ to a world that needs so very much to hear God's Good News.
It's about you and me sharing our faith with others, as God gives us opportunity to do so. This is a topic very near and dear to my heart, as it is for many of us. Frankly though, at times, many of us fear our own inadequacy or fret that someone with whom we want to share the Gospel might ask questions or respond to our words in a way that would leave us speechless, or even embarrassed at our inability to respond properly.
And yet, God presents us with opportunities to be His witnesses. Perhaps you have heard me speak of some of those opportunities in my life, including:
the shaken and upset 26-year-old wife and mother, a U.S. Marine, who sat next to me on a plane. She was on her way to Iraq with only a few hours notice, leaving her husband and two young children behind.
the 46-year-old cab driver who had lost his brother to a heart attack two weeks earlier. He had questions and fears about his brother's eternal destiny—and about his own.
the Hispanic server I included in my table prayer at a Council of Presidents meal in Chicago. She later turned, unknowingly and almost miraculously, to the only Spanish-speaking district president in the room for further conversation about her daughter's spiritual condition.
In each case, I saw the hand of God create an intersection between my life and the life of a man or woman who had real fears, real worries, and real needs—all of which could be met or satisfied only with the Good News of God's love in Jesus Christ. This was expressed in the theme of last summer's Synod convention: "ONE Message—Christ! His love is here for you!"
When I was installed in September to my third term as Synod president, I invited those present to dream with me of a time when this proclamation, "Christ's love is here for you," is accomplished articulately and unapologetically on every Spirit-given occasion, with great sensitivity, humility, boldness, and courage. I also invite you now to share this dream.
This invitation to dream, however, is not one that asks you to dream with your eyes closed and simply to imagine what can be. Rather, this invitation asks you to dream with your eyes wide open:
so you will see the "fields that are ripe for the harvest";
so you will see the doors of opportunity God has opened and that you will run through them without fear, in the boldness of the Lord;
so you will see the undeniable power of God in Christ, who promised we "will see greater things than these."
Dream with a vision where One Mission compels us vigorously to seek the lost for Christ.
Dream with a vision where One Message of Jesus Christ alone as the Savior of the world resounds above all other sounds.
Dream with a vision where as One People we strive side by side for the faith of the Gospel.
My prayer is that the stories in this issue of The Lutheran Witness will provide godly inspiration and motivation for your life and for the lives of those with whom you may be privileged to share the hope that is in you—your faith in Jesus Christ, Savior of the world and Lord of the universe.
God bless you richly in Christ!
e-mail: president@lcms.org
Web page: www.lcms.org/president