by Paula Schlueter Ross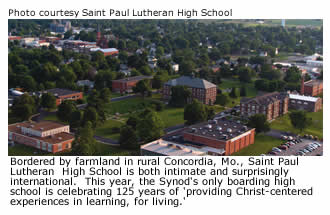 Bordered by farmland in rural Concordia, Mo., Saint Paul Lutheran High School is both intimate and surprisingly international. This year, the Synod's only boarding high school is celebrating 125 years of 'providing Christ-centered experiences in learning, for living.'
It was a shock to Sarah Gifford when her 16-year-old brother, "C.J.," who was attending school 170 miles away, called her at home to wish her a happy 13th birthday. Typical siblings, Sarah and C.J. often fought, teased, and ignored each other at home in Ellisville, Mo.
So it was even more shocking, she says, when he added, "I love you."
But that's the interesting thing about living away from home, Sarah notes: Relationships with parents and siblings become "so much closer."
"I really think it brings families together," says Sarah, now a 17-year-old junior at that same school, Saint Paul Lutheran High School in Concordia, Mo.
That sentiment is shared by Rev. Paul Mehl, executive director of Saint Paul, the only residential high school of The Lutheran Church—Missouri Synod.
"Your relationship with your parents becomes closer" when you're living away from home, Mehl says, and when "you do go home, it's awesome."
Mehl, himself a "Saint"—as Saint Paul students, graduates, and sports teams are known—grew up in Concordia while his father, Dr. Lambert Mehl, served as president of the school from 1954 to 1971. Paul Mehl met his wife, Luci, as a student there, and three of the couple's children also are Saints. The fourth, a sixth-grader, will be in a few years.
The two older Mehl children attended Saint Paul while their father was serving a parish in Arkansas, so Mehl and his wife have experienced the parent-child separation firsthand.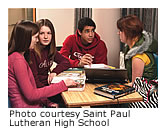 In the "old days," Mehl says, Lutheran parents considered a Saint Paul boarding-school education as a "gift" to their children. But today's parents are hesitant to be apart from their teenagers, so the school is seeing fewer American teens on its college-style campus.
And in Mehl's eyes that's a shame, since he believes the school does a great job of preparing its students for any number of vocations, as Christians in service to the world.
Indeed, that's the reason Saint Paul was established by the Synod's German forefathers in 1883 as a preparatory school. In addition to its primary focus of educating men as future pastors and teachers, the school's first administrators promised to "give due prominence to the studies calculated to serve a person in the various stations of life outside the ministry."
Since its founding, Saint Paul has "put over 1,000 pastors and almost as many teachers into the ministry," Mehl says, and, even today, is probably the Synod's biggest "feeder" high school for professional church workers.
Over the years, the school has evolved-—from a four-year "pro-gymnasium" (high school) for men, to a six-year gymnasium (four-year high school and two-year college) for men and women, to its present-day operation as a co-ed high school with 183 students in Grades 9 through 12.
The face of the once-German student body has changed dramatically—nearly half of this year's students are from countries other than the United States: Korea, Norway, Taiwan, Guatemala, Hong Kong, Japan, South Africa, and Vietnam.
"I think that is God opening a door for us, saying 'Let's do something different now,'" Mehl says.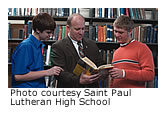 Most international students come to Saint Paul through private referral and partnerships with churches and schools in Korea, Norway, and Taiwan. Others are looking for a quality American education in a safe area for the right price, and Saint Paul fits the bill.
Twenty-five students from a public school in Norway are spending their junior year as Saints. Four of them, working on precalculus homework in the library, admitted that Saint Paul is stricter than their Norwegian school, but said their experience is "definitely" a good one. What do they like best? "The people"—students, teachers, and staff alike.
That's no surprise to Gloria Burrow, a 1982 Saint Paul grad who now serves as the school's director of recruitment. "This is family," she says, and "a Christ-filled campus."
The 50-acre campus features an imposing statue of St. Paul and 10 buildings, including the original two-story frame house that served as both a professor's home and a classroom for the college's first class of three students.
A multiyear capital-funding campaign, now in its second phase, has a current goal of raising $2.55 million, which will be used, in part, to remodel Kaeppel Hall as a worship, performing arts, and conference center.
At $11,300 per year for tuition and room-and-board for domestic students, the high school is priced below the $32,000-per-year average U.S. prep-school cost, and it is a great bargain, notes Mehl. Local students who don't board pay $7,150, which includes weekday lunches. Several sources of financial aid are available, and administrators say they will do everything in their power to assist potential students and their families with costs.
Saint Paul offers more than 80 college-prep courses, and students who qualify may take up to 20 hours of college credit. Extracurricular activities include baseball, basketball, football, soccer, track, and an award-winning math team.
Principal Bill Lemmons says the typical student is "excited, eager, and ready to be challenged," and the school rarely has to ask students to leave because of behavior problems.
All faculty members and administrators are LCMS trained and most worship at the local LCMS congregation, St. Paul's Lutheran Church, just two blocks from campus, so Lutheran values are "woven through the fabric of who we are," says Lemmons.
St. Paul's pastor, Lee Hagan, calls the high school "unique" because its students come from the Concordia area, a dozen states, and eight countries.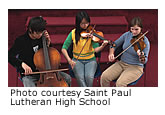 "When we see the growing diversity in our nation, what a blessing to have a school that is sharing the love of Christ with students from across the globe," says Hagan, noting that many of those international students will one day return to their home countries, perhaps with a newfound Christian faith.
One such student is Ngan Thi Kim "Monica" Nguyen, a 17-year-old senior from Vietnam whose family found Saint Paul through an Internet search. Monica, who was baptized March 2, says her Christian faith makes her "feel safe."
While she hasn't yet settled on a career choice, Monica says she wants to "save the world" and "do something big." Right now, she's considering teaching and has applied to Concordia University Chicago for the fall term.
"Every child who comes through here is changed in some amazing ways," acknowledges Burrow. After all, Saint Paul's mission, she says, is to "embrace, equip, and empower" students "to fulfill that ministry that God has planned for them."