by Kim Plummer Krull
Candy.
That's what Nathan Houlihan admits first motivated him to join the St. John Lutheran School choir in Wheaton, Ill.
"But that was when I was in first grade, and they don't do that anymore," says Nathan, who, at 12, still sings in the choir even without the sweet incentive.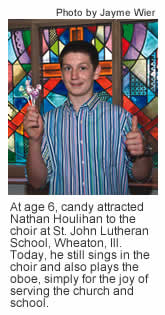 "I like it," Nathan says about serving his church, where he also plays the oboe. "I think it's much more moving for people to hear people sing [than to hear recorded music]. [Live] singing makes them feel better, and they can understand the words more."
Such a positive note is music to the ears of a group of ministry leaders and church musicians. These are Lutherans concerned about a future where more congregations sing "A Mighty Fortress" accompanied by a CD player than an organist—where youngsters point to the choir loft and ask, "What's that for?"
"I am constantly getting calls from pastors, especially pastors in our smaller parishes, who have no organist," says Rev. Jon Vieker, assistant director of the LCMS Commission on Worship. "They tell me their organist is 85 and can't play for services anymore, and there's no one to take her place. Now what are they going to do?"
Lutherans are familiar with pastor and teacher shortages. But the dwindling supply of church musicians may be a surprise—until it hits your own congregation.
At Trinity Lutheran Church in Houston, Texas, the choir had dwindled to eight members—on a good Sunday, in a congregation of 1,600.
"If we want to keep beautiful music in our churches, we need to work at it," says Mary Mountford, a teacher who made it her mission to help revitalize Trinity's sagging music program and now serves as the church's music director.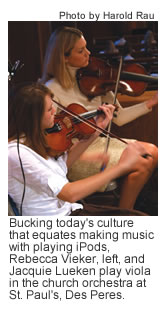 Mountford tells of a phone call from a neighboring Lutheran church desperately looking for an organist to play for the fast-approaching Palm Sunday and Easter services. "That's the sad reality," she says. "What was this church going to do? Push a button and play prerecorded music for Easter?"
To address such ominous notes, the Synod's Commission on Worship gathered a committee of concerned Lutherans to develop Children Making Music, a new DVD that aims to plant music seeds in today's youth—and tomorrow's church musicians.
Children Making Music debuted July 22–25 at the Institute for Liturgy, Preaching, and Church Music at Concordia University, Seward, Neb., sponsored by the Commission on Worship. The DVD will be distributed to more than 10,000 Lutheran churches and schools across the country.
Children Making Music highlights music as a gift from God that enriches life in the church and beyond. Leaders and musicians from the LCMS, the Wisconsin Evangelical Lutheran Synod, and the Evangelical Lutheran Synod developed the DVD. The Marvin M. Schwan Charitable Foundation provided funding.
"Music goes hand in glove with the proclamation of the Gospel," says Vieker, quoting Col. 3:16: "Let the word of Christ dwell in you richly, teaching and admonishing one another in all wisdom, singing psalms and hymns and spiritual songs, with thankfulness in your hearts to God" (ESV).
Vieker adds this: "We want today's children to have an appreciation for music and the important vehicle it is for the proclamation of the Gospel."
Any Lutheran who has sat in a pew knows music plays a big role in worship, comprising at least half the typical service. Rev. Paul Grime hopes Children Making Music will help reverse a decline in the supply of church musicians he has seen the past two decades.
"In some churches, there is no one who can lead the music," says Grime, who initiated the project when he served as director of the Commission on Worship. (He now serves as dean of the chapel and associate professor of pastoral ministry and missions at Concordia Theological Seminary, Fort Wayne.) "In some congregations, it's beginning to hit home that plugging in a CD player is not quite the same thing as members of a congregation singing and playing the music for worship."
True to its title, the 30-minute DVD highlights young people making what Martin Luther called "an outstanding gift of God," second only to theology. Scenes were shot at Lutheran churches and schools across the country.
Some of the featured youngsters are members of four school choirs at St. John, Wheaton. About eight years ago, St. John began a music program to help draw families into worship.
The congregation called a kantor to oversee the program, a move that has paid huge dividends "in terms of witnessing and teaching," says Pastor Scott Bruzek. He cites six families who joined St. John last December specifically because of the church's emphasis on liturgical worship and its music program.
"Music gets to people who may not be gotten to as easily by the spoken word," Bruzek says. "It's another way to deliver the goods to people."
But church and school music programs face challenges. Church boards can be reluctant to allocate resources for music education. Busy children (and busy parents) can't find time for practices and performances in already over-scheduled days.
Other sour notes: a culture that tends to favor sports over music and youngsters who equate making music with playing iPods.
At Trinity, Houston, Mountford slowly built the struggling adult choir to about 60 members. She also started a popular children's program.
"It takes work, and you have to make it fun," says Mountford, who began a conservatory at the church to offer piano and guitar lessons. She also launched the school's Trinity Singers, whose members appear in the DVD.
"Perks" keep the 46-member school choir growing. Students enjoy performing with live animals at the Christmas Eve pageant. They look forward to recognition at the banquet that honors veteran singers.
"It's fun," says Juanita Deaver, 12, about the Trinity Singers, which she joined in second grade. "We get to play singing games, like singing our names to each other. We make good friends through choir. We get to do things we wouldn't get to do to unless we were in choir."
Trinity Singer Joy Burroughs, 12, already plans to join her church's adult choir. "I love music," she says. "I love how harmonies sound, and I love to sing and be a part of producing those tones that sound so beautiful."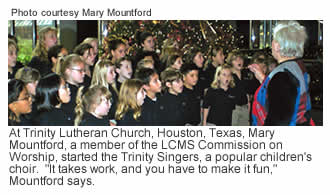 The creators of Children Making Music also point to the academic and social benefits of music education.
"People involved in music tend to be more into reading and other academic pursuits," says Dennis Marzolf, professor at Bethany Lutheran College in Mankato, Minn., and chair of the Synodical Worship Committee of the Evangelical Lutheran Synod. "Singing with a choir or playing with a band brings people together as a community in a very powerful way."
The DVD's creators expect it to strike a chord with a wide audience. It's divided into three segments, aimed at children, parents, and pastors/educators. The DVD committee suggests that congregations play the video at board meetings and Bible classes, for Parent Teacher Leagues as well as Sunday school students.
Says Grime: "If the DVD is shown in just half our congregations and schools, and if it provides the needed encouragement to only a couple of students in each of those institutions, that would ultimately mean several thousand additional musicians who might one day be leading our congregations in song."
Now that's a joyful sound!
For more information about Children Making Music, contact the Commission on Worship at worship@lcms.org or (800) 248-1930, ext. 1265.