by Diane Strzelecki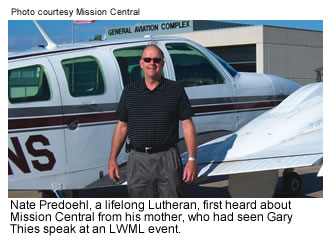 Nate Predoehl, a lifelong Lutheran, first heard about Mission Central from his mother, who had seen Gary Thies speak at an LWML event. He later met Thies at his church, Good Shepherd Lutheran, in Gretna, Neb., after Thies' presentation there.
"After he learned that I was a corporate pilot, Gary asked right away if I could take him on the plane," Predoehl says. "I said no, of course–that plane wasn't at my disposal–but God knew that wasn't the end of the story." The next time Thies asked, Predoehl decided to poll some his former flight students and pilot friends to see what they would say.
"There's a tradition among small-aircraft pilots to participate in small airport fly-in events–especially fly-in breakfasts–so I dubbed it as sort of a fly-in to a church," Predoehl says. He gave Dr. Robert Wilson, a recreational pilot, the list of places Thies wanted to visit, thinking Wilson might choose a few locations. To his surprise, Wilson wanted to do all of the trips.
Today, seven pilots have been introduced to Mission Central and the network of congregations. Using their own aircraft and absorbing the costs of fuel and maintenance, they enable Thies to travel to many congregations quickly.
"We save Gary a lot of time and the church a lot of money," says the 54-year-old Predoehl, whom Thies has given the title Chief Missionary Pilot.
"The fellowship is incredible," Predoehl says. "You go from belonging to one church of about 1,000 people to belonging to 35 congregations of 150,000 people, because they all want to claim you as a friend." He laughs that this, of course, appeals to the "big ego guys" that pilots really are.
"It's almost like a celebrity status; all the families want to host you," he says. "Of course, it's all part of the plan to foster relationships and make missions personal."
Thies can't say enough about the Mission Central pilots. "They are my pals, they travel with me, and in the services, I always have them stand up and show people what 'not normal' people are like and how they have taken this personally. Their faith has turned into action to do something to help," Thies says, noting that on the plane, they always pray that God would keep them safe.
"Some of the miracles that have happened on board the planes are some of the stories I tell also," Thies says. "God can still 'open up' the clouds at just the right time to allow us to land."
Predoehl says his work with Mission Central requires just three hours a month, but don't let him kid you. Many times he is on standby, prepared to accompany less-experienced pilots when the weather or distance is challenging.
"This is fun for pilots. They get to use their talents, eat some fantastic meals, and fly," Predoehl says. "It's a great way to serve."