by Bonnie Matzat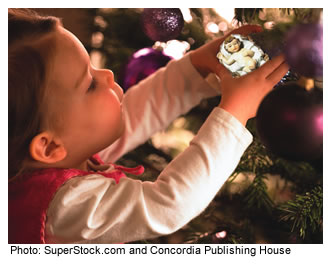 It was Christmas decorating day at our house, and Sarah, our three year old granddaughter, was spending the afternoon with us. She was following me around, trying to patiently wait for the important moment when she would be asked to help. I had told her I was saving a very special task for her—setting up the nativity scene.
Over the years, our four children have taken turns placing baby Jesus, Mary, Joseph, the angel, the shepherd, and the animals in their rightful places on the end table in the family room. From year to year, I had trouble remembering whose turn it was, but they certainly didn't. "You did it last year!" one of them would say. "It's my turn this year."
Now it was going to be Sarah's turn. Her eyes sparkled when I handed her the well used box and told her to open it.
"What's inside, Grandma?" she asked.
"You'll see," I replied.
She opened the lid carefully and lifted out one of the figurines, wrapped in the same tissue paper used for the past thirty-some Christmases. Her little fingers gently removed the paper.
"It's an angel, Grandma," she announced.
"It's Mary. It's Joseph. It's a shepherd. It's a lamb. . . . It's Baby Jesus!" Sarah exclaimed as she unwrapped each piece.
"What's this?" she asked as she held up a piece of red felt and some angel hair.
"Put them on the table, Sarah. Then you can arrange the figurines on top," I said.
Following my instructions, she put the piece of red felt on the table and placed the wispy angel hair on top. She glanced at the figurines spread out on the carpet and quickly picked up the baby Jesus. "He needs to be right in the middle, right in the front, Grandma," Sarah proclaimed. "Mary and Joseph need to be near Him. The angel needs to be near Him, too. I don't know where to put the animals. The shepherd wants to be close to Jesus. They all need to be near the fire so they can stay warm." She was talking to herself, not expecting any response, as she tried to decide where to place the various figures. I stood back to watch.
For the next several minutes Sarah moved the nativity-scene figures around. I noticed, however, that she never moved the baby Jesus. Finally she was pleased with her arrangement.
"Grandma, come and see," she called. I walked to the table. She pointed out each of the figurines and then proudly said, "Look where baby Jesus is. He's right in the middle, right in the front, where He belongs."
What a secret she already knew at the tender age of three! The position of most of the nativity-scene participants didn't really matter. The angel could be on top of the coasters or on the table near the others. Mary could be to the right of the manger or to the left. The shepherd could be in front of the sheep or in back. What mattered to Sarah was the placement of baby Jesus. She knew that He needed to be right in the middle—right in the front, where He belongs. In the nativity scene—and in our hearts.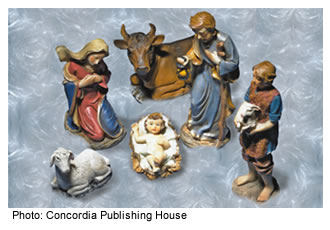 Whether we are three or well beyond three, we pray with Paul Gerhardt (LSB 372) that the Holy Spirit would help us keep our Savior, the most precious Christmas gift ever, "right in the middle."
The world may hold
Her wealth and gold;
But thou, my heart, keep Christ as thy true treasure.
To Him hold fast
Until at last
A crown be thine and honor in full measure.
---
Bringing a Nativity Set to Every Home
By Diane Strzelecki
Rose Fremer's favorite childhood Christmas memory centers on her family's nativity set, a timeworn crèche and figurines set up each year by her mother. For Fremer, the set upheld her Sunday School lessons and made the rich mystique of Jesus' birth more accessible to her.
As an adult, Fremer, who with husband Al is a member of St. James Lutheran Church, Montague, Mich., was troubled by a cultural outlook that nativity-set displays in public settings were potentially "offensive." Her solution: bring more of them into family homes. With the goal of "a nativity set in every home," the Nativity Set Ministry (www.nativitysetministry.org) was born.
The five-year-old ministry is a Michigan nonprofit organization supported by the Michigan District LWML's Lakeshore Zone. Donations are used to buy sample sets for churches starting their own nativity-set ministries and to purchase African-American and Hispanic sets, which, Fremer says, are hard to find.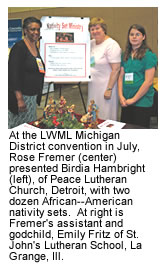 Fremer travels the country to champion the cause. Her presentations at churches, preschools, and other Christian organizations highlight ways to augment existing gift ministries with nativity sets, noting that it doesn't need to be a costly addition.
"Inexpensive sets can be purchased at hobby stores or dollar stores, at Christmas sales, or online," Fremer says. "I don't want to promote collector's items. I want to provide teaching aids that encourage children's interaction."
Rev. Daniel Schumm, pastor of outreach and discipleship at Carmel Lutheran Church, Carmel, Ind., is an enthusiastic supporter. Carmel added a nativity-set ministry to its Christmas gift programs a few years ago.
"When we began casting the vision of the ministry, we encouraged members to hit after-Christmas sales," he says, noting that the response was enthusiastic.
"On one hand, we give presents that might delight a child for a moment, but our goal is that a child would hold onto the set and make it part of his or her Christmas each year," Schumm says.
Recently, Fremer heard from Debbie Luytjes, preschool director at St. John's Lutheran Church, Grand Haven, Mich. Luytjes reported that her afternoon daycare children were telling each other the Christmas story while "playing" with their classroom's nativity set.
"It shows the power of the Word incarnate," Fremer says.