by Diane Strzelecki and Roland Lovstad
ERIK NEIDER: FINDING STRENGTH THROUGH PRAYER
According to LT. Erik Neider of the U.S. Naval Reserve, sharing his faith has never been an easy thing to do.
"I worry about pushing people away or looking like a self-righteous Bible thumper," he says, adding that his work adds unique challenges with regard to everyday evangelism.
"The further I have progressed in my career as a naval officer, the more pressure I have felt to practice leadership over and above faith," Neider says. "That pressure is one of the reasons I felt compelled to apply to Concordia Seminary in St. Louis." After serving a tour of duty that ended in 2005, Neider entered the seminary, carefully balancing his life as a student, husband, and father to two lively boys.

Concordia Seminary was a welcome change for a man who had often prayed to God to "make him His instrument." But Neider's prayers were answered in an unexpected way when he was mobilized to support logistics in Kuwait, supporting, in turn, Operation Iraqi Freedom. The experience forced him to critically evaluate how to be an Ablaze! Christian while maintaining the integrity of being a naval officer.
"The manner in which I was mobilized made it very clear that 'making me His instrument' was exactly what He had in mind," Neider says. "I could not hide the fact that I had been mobilized from the seminary and that I was training to become a Lutheran minister. When people asked, I told them."
Because the small size of his unit did not allow for a chaplain to be assigned, Neider was asked to help meet the spiritual needs of the sailors as a lay leader during the three-month training phase in Virginia. He continued that role once the unit was deployed to Kuwait, conducting a spiritual-needs survey so that he could serve the unit better.
"Two of my sailors asked for instruction in the Christian faith that would possibly lead to Baptism," Neider says. "The base chaplain gave me permission to provide the instruction. Using Luther's Small Catechism as the basis for 10 weeks of instruction, we had numerous Gospel-filled conversations leading to both sailors' baptisms on Aug. 12, 2007."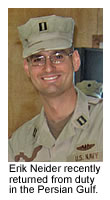 Neider notes that the communities and relationships that developed because he was able to share his faith with fellow service members, Christian and non-Christian alike, are among the most cherished memories of his time in Kuwait. He understands only too well that sharing the faith isn't an easy thing to do, but he does have a recommendation for those who would like to do more of it: pray.
"When you start each day in prayer, in the remembrance of your baptism and the blessing of your faith, you begin your work humbly, knowing that it is only because someone else had the courage to witness the faith that you 'got it' and are now righteous before God," Neider says. "In humility you are able to see Gospel moments— when the Good News of your salvation in Christ is on the tip of your tongue, and it is the only thing the person in front of you needs to hear."
And, Neider notes, because you prayerfully asked God to "make you His instrument," He will give you the courage to proclaim His Word.
—D.S
---
AARON REINKING: SHARING OUT OF COMPASSION
Some of the best moments of Aaron Reinking's life have come out of his decision to share his faith. Whether it's being open to spiritual conversations with his co-workers, answering a student's questions about his church, or writing for his Web site, evangelism is an essential part of his everyday life. Yet he's not always comfortable doing it.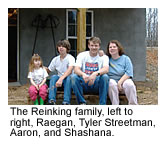 "I guess in the last few years I've gotten better at sharing my faith because I've had more opportunities to do so," says Reinking, a member of Trinity Lutheran Church in Athens, Ga. "If you feel a little shy about it, God will give you the strength and the ability to do it."
One of the reasons Reinking wants to share his faith is because he knows he's supposed to do it.
"Jesus tells us many times in the New Testament that we are to share the message of the Gospel—it's what we're commanded to do as Christians," he notes. Yet Reinking's love for the people around him may be his greatest motivation.
"If we really care about people, we need to witness to them so that they can receive God's forgiveness," Reinking says.
He notes that several Bible studies and books about evangelism have motivated him to be more active in sharing his faith, bringing him back to methods of sharing Jesus modeled in the New Testament. A member of his church's evangelism committee, he often teaches classes on the subject. He is even willing to travel to other churches to help revitalize or begin evangelism programs.
"If you ask most Christians if they should be witnessing, they will say 'yes!'" Reinking notes. "But if you ask them how to do it, they don't know."
Although he's always willing to talk, he has found that actions often speak louder than words. "Sometimes it's just the way that you present yourself, live up to your word, and show enthusiasm for what you're doing that can be a witness to your faith," he says. A public high school history teacher, Reinking tries to be accessible to students and their questions whenever he sees them, whether it's after class or out in the community.
"Sharing our faith shouldn't be something we feel forced to do, it should be something we're excited about doing because we're able to bring forgiveness and life to other people through bringing them God's Word," Reinking says. "If we're not witnessing, we're kind of hoarding the message and keeping it to ourselves when God wants us to go out and share it with others."
—D.S.
---
IN GREAT FALLS: PARTNERS ON THE ROAD
I felt it was time for the congregation to take a look at how we could expand our ministry and go further in outreach in the community," says Rev. Kent Stenzel, pastor of Trinity Lutheran Church in Great Falls, Mont.
As with a growing number of pastors and laity who see a need for outreach assistance, Stenzel contacted "The 72—Partners on the Road," a ministry of LCMS World Mission. Originally known as "Harvesters for Christ," the service trains and sends volunteer teams to help congregations design and meet their outreach objectives.
"The tendency is that you get stuck in a rut, and you can only see things one way," says Stenzel as he describes the visit of Loren and Marge Rehmer.
"The 72" team worked with Trinity's leaders from Sept. 14 to Oct 5. "For someone to come from the outside and to give some type of suggestions, or ask some questions, it gets people thinking," Stenzel says.
More than a century old, Trinity is the "mother church" in the Great Falls area. It averages about 165 worshipers at its Sunday and Wednesday evening services. While Great Falls is growing slowly, new homes are being built and new families—young as well as retirees—are moving in.
With the Rehmers' help, the congregation developed an "assimilation" grid. It reviews current work and plans activities in three areas: spiritual growth through worship and Bible study, involvement in the church through fellowship, and use of gifts and talents in the church. Plans are then charted for nonmembers in the community, people who have shown an interest in the congregation, new members, and those who have been members for more than six months.
"I think the highlight for me was really trying to get them to have a passion in the next year to enhance their ministry," Loren Rehmer says. "We find many congregations that just don't have a passion; they're going through the motions, and they've done things a certain way for many years."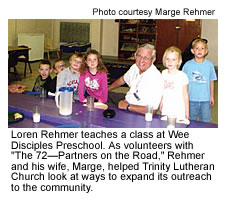 Veterans of 11 such visits since joining the Harvesters in 1997, the Rehmers, both now retired, are residents of Prior Lake, Minn., and members of Crossview Lutheran Church in Edina. He has 40 years experience as a principal in Lutheran schools; she taught in preschool and kindergarten for 15 years.
Stenzel encouraged the Rehmers to help congregational leaders and boards begin to think "outside the box." They met with various boards, including the church council, and with the board of "Wee Disciples," which offers daycare, preschool, kindergarten, and first-grade classes.
"Loren is a real dynamic person, and he also is real truthful," Stenzel observes. "We wanted someone to come in and not sugarcoat an evaluation." As a result, Trinity already is working to involve new members and beginning two small-group Bible studies. The school is beginning a focus on encouraging nonmember parents to have their children baptized.
During their visit, the Rehmers also taught a workshop on witnessing, spoke to preschool staffs in the Montana District, taught weekday school classes, presented witnessing scenarios after worship services, and led devotions with the school children.
"It is teaching," says Marge Rehmer. "It's not doing for the congregation."
Loren Rehmer adds that they're sometimes expected to bring a "magic wand" to fill pews, but "The 72" teams seek to teach skills.
"At times, I think it probably strengthens our faith more than the people we work with," Marge Rehmer says.
—R.L.
---
IN EAST POINT: LIVES CHANGED THROUGH OUTREACH
Christ Lutheran Church and School in East Point, Ga., is all about reaching out, helping out, and bringing in unchurched families.
The church helps its neighbors by hosting an annual food drive and holiday toy collection. It also serves as an Angel Food Ministries partner, with volunteers from both the church and school collecting and packing food to sell to families at a reduced cost.
The 100-member congregation and 65-student school also participate in community events, fairs, and holiday festivals, but it's their neighborhood walks that make the biggest impression.
Once a month, church members, school parents, and ministry leaders volunteer their Saturday morning to meet and greet people in the community.
"We just talk with them and then invite them to come to the church the following weekend for our 'Friends and Family Sunday,'" remarks Rev. Aaron Dickerson, Christ Lutheran education pastor and principal. "We also give out 'evangelism packets' containing information about the church and school."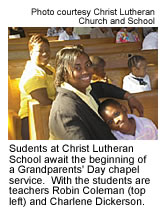 Although many children have been introduced to Christ Lutheran School this way, the reality is that many families in the community simply cannot afford a Christian education. That's where the LCMS Black Ministry "Let the Children Come" scholarship fund comes in, notes Dr. Willie P. Stallworth Sr., associate executive director of education networking for Black Ministry. The fund supports Christ Lutheran's outreach vision.
Since Christ Lutheran School became eligible for scholarships four years ago, 65 percent of their scholarship recipients have been baptized. The students and their families are now active members of the church.
Christ Lutheran is a shining example of outreach— bringing students to the school for all the right reasons.
"This scholarship program is not just about a child getting a quality education, it's about reaching the families," Stallworth says. "The focus is winning souls for Christ."
Dickerson credits Christ Lutheran's dedicated staff for being so committed to outreach. "They commit a lot of their time during the week and always attend the monthly Friends and Family Sunday," he says.
In order to receive scholarship funds from Black Ministry, all school staff and church leaders are trained by Stallworth to view the school primarily as an outreach tool. He notes that the Black Ministry Schools program "Outstretched Hands to the Lost" is designed to make sharing one's faith a natural part of one's job and life. "I am certain those scholarship students were baptized as a result of how the Holy Spirit works through the people of Christ Lutheran and this model," Stallworth says.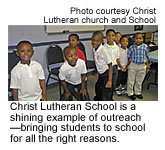 Children participate in the monthly Friends and Family service, and parents, relatives, and family friends— often unchurched themselves—pack the sanctuary.
Dickerson tells the story of one woman, a faithful worshipper at another congregation, who was at Christ Lutheran for the first time to see her daughter dance at the service. As always, her heart was heavy because her husband was not in church with her.
"Through the preached Word and the worship experience, she was convicted to return home and minister to her husband," Dickerson says. "The next morning he came in to the church to speak with the staff and committed himself to the church and its ministries.
"That's what we try to do here: make families whole."
—D.S.
---
IN IRVINE: A GREAT COMMISSION SCHOOL
Concordia University, Irvine, Calif., describes itself as "The Great Commission University," offering ways for students to share the Good News of Jesus Christ in local and world mission service. As enrollment grows, there are also more opportunities to witness right on campus, observes Rev. Steven Borst, Irvine's campus pastor.
Specifically, on-campus witness has received more attention the past three years, he explains. "About five percent of our student body doesn't claim any church affiliation, and about 15 percent is what we would term spiritually inactive."
International students—from 40 to 80 a year— present another opportunity, Borst adds. "Most come as non-Christians, and through our witness program we've created some events to share the faith with them."
At least once a year, Irvine's campus ministry offers a three- to six-hour "Share Workshop," focusing on witnessing in everyday life and teaching ways to share one's faith. Borst also has six part-time student staff members who help run the ministries. "I see my job as equipping and training them and empowering them to lead the different ministries," he says.
Witness coordinator Daniel Vanderhyde has eight to 10 volunteers who meet every week for Bible study and event planning. "We are learning and growing together in Christ, and it is a real joy to have such great support," he says.
"Loving service" is part of the witness ministry, according to Vanderhyde. On Sunday evenings, for example, volunteers go door-to-door in the residence halls. They offer to take out students' trash and distribute thought-provoking, Gospel-centered pamphlets. Written by campus-ministry volunteers, the pamphlets follow a recycling theme and explain how Jesus Christ cleans up the "mess" in people's lives.
"It's rewarding to see how open people are to hearing about Christ when we initiate the conversation by offering to take out their trash," Vanderhyde says.
During Halloween, Irvine's campus ministry presented "Reality House," its own version of a haunted house. "Our purpose was to explain that this world of pain and death is not all that exists, and that Jesus is the source of hope and life," Vanderhyde says. "I absolutely love those moments when we get to clearly contrast the world's view of reality with what we know in Christ."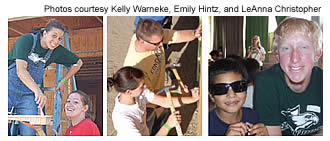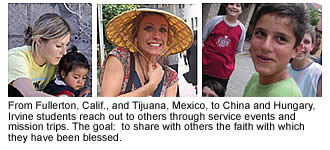 A monthly witness chapel, called "Ten28," uses popular music, movie clips, and drama to communicate the Gospel. "Students are encouraged to invite roommates who don't normally go to chapel, because we see this as a chance to witness the faith to some of these students," Vanderhyde says.
Response cards invite students' questions and prayer requests. A Witness Team follows up. Borst may become involved if there are counseling requests. Because of these efforts, several students have asked to be baptized.
Local missions coordinator Kelly Warneke is enthusiastic about opportunities to serve God and others through missions. Many Christians think "missions" means living in obscure locations, she observes, adding, "There are opportunities to do missions all the time, and Christians of all backgrounds, interests, and abilities can be involved."
Warneke is responsible for coordinating "anything that can be done in 24 hours or less." Projects include visits to orphanages in Tijuana, Mexico, workdays with Habitat for Humanity/Thrivent Builds, collections for Operation Christmas Child, and assembling nonperishable food and toiletries for homeless people.
The campus world missions program sends students further. Borst led a group to teach at English camps in Hungary, using biblical materials. This month a group is teaching at English camps in China. During spring break, students participate in servant events in Guatemala and Mississippi. Summer events include trips to South Africa and Korea.
"We train the students before they go," Borst says. "For my trip to Hungary, we actually created the curriculum, using Bible stories and the message of the Gospel. We'll meet all semester long, and we bring in an anthropology professor and an English as a Second Language teacher, who talk about communicating in different cultures."
Borst estimates that 50 students are involved in Irvine's on-campus witness arm, and more than 250 students—about 10 percent of the student body—participate in world or local mission activities.
"The mission of our campus ministry is making disciples of a new generation," Borst comments. "We see that as not only nurturing the faith of Christians, but also to call them to discipleship through the call of faith. We see all of this flowing out of the mandate that Christ gives us."
—R.L.