by R. Reed Lessing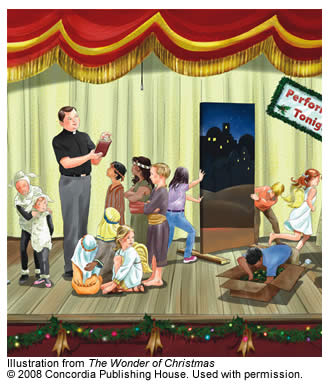 Ah, December. The Christmas season is upon us. It's time to begin planning for the church's annual children's program.
And you know how the events will unfold, again. Several boys will be conscripted to wear bathrobes and pretend they know something about being shepherds. A dozen girls will gleefully volunteer to be angels, archangels, and all the company of heaven. Crate Paper and glitter will be combined to create colorful crowns for the Magi, who will undoubtedly sing off-key, "We Three Kings of Orient Are."
Others will be drafted to join the ranks of choirs who through the ages have memorized the lyrics to "O Little Town of Bethlehem," "Hark, the Herald Angels Sing," and "Joy to the World." Then, to unleash the greatest controversy since the church picnic was rained out, a boy and a girl will be chosen to play Joseph and Mary. Add to this cast a newborn baby, an innkeeper, a few straggly sheep, and presto, the program will be just about ready to launch!
But one important component is missing. Who will direct the pageant? After a thorough search, a director is "specially selected" and then given this mandate: "Keep the bathrobes one color, make sure everyone remembers their lines, and please, no angels with crooked halos this year!" Four weeks of rehearsals and costume-making will lead up to the night of nights. Anticipation fills the air! The unstated goal is that after everyone reverently sings "Silent Night," they will return home saying, "This year's program was the best yet!"
Another Christmas Pageant
Everyone—or nearly everyone we know—is probably familiar with Luke's Christmas story. It's the foundation upon which we build all those wonderful pageants each year. But what about St. Matthew? His account appears first in the New Testament. What about his story? Should we expect anything less from Matthew's "Christmas pageant"? Why, if anyone can pull this story off without a hitch, would it not be an organized and efficient tax accountant like Matthew? In fact, as a "pageant committee," we have so much confidence in Matthew that we'll even allow him to begin with a genealogy (Matt. 1:1–16), an unusual way to begin a "pageant," to say the least.
Looking at his genealogy, we are amazed! Matthew begins by organizing his presentation of Jesus by employing three groups of 14 (Matt. 1:17). In all likelihood, Matthew's 3 x 14 pattern is a play on the name of David, whose Hebrew consonants daleth waw daleth add up to 14 (daleth = 4, waw = 6). This indicates that Jesus is the Davidic son, three times over. Quite impressive theology!
Studying his gospel more broadly, we see that Matthew plans to structure his narrative to highlight our Lord's five teaching blocks (5:1–7:29; 8:1–11:1; 11:2–13:58; 14:1–19:1; and 19:2–26:1).
"The old timers will love it," we exclaim with great joy. "They will be reminded of Moses' five-part book that we affectionately call the Pentateuch." With great anticipation the church meeting concludes on this high note. "If anyone is going to direct a 'lights out' Christmas presentation, it is going to be Matthew!"
But at the next meeting we look at Matthew's genealogy with greater scrutiny. Within moments the committee is shocked. Matthew has placed four huge eyesores in the program! Their names are Tamar (Matt. 1:3), Rahab, and Ruth (Matt. 1:5), and a certain "wife of Uriah" (Matt. 1:6). How dare Matthew spurn the conventional wisdom of the day by letting women into his genealogy! One committee member sighs in frustration, "Well! If he has to include women, why not invoke the names of our three lovely matriarchs—Sarah, Rebekah, and Rachel?" Another person adds this caustic critique, "Doesn't Matthew remember that lineage is traced through men, not women? And that the function of a genealogy is to give solemn honor to the final descendant, Jesus? Matthew breaks both of these time-honored rules!" A vote is taken, and it is unanimous. Stop the presses!
The chairman then asks the inevitable question, "Who picked Matthew to direct this program in the first place?"
Someone grabs a Bible and reads from Matt. 9:9, "As Jesus passed on from there, He saw a man called Matthew sitting at the tax booth, and He said to him, 'Follow Me'" (ESV). The room becomes quiet. The reading continues with these words of Jesus, "I came not to call the righteous, but sinners" (Matt. 9:13b).
Matthew's Christmas Cast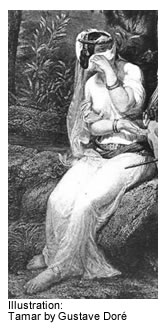 Matthew's unlikely Christmas cast of sinners begins with Tamar. She is first mentioned in Gen. 38:6: "Judah took a wife for Er his firstborn, and her name was Tamar." God kills Er because he was wicked (Gen. 38:7). Following levirate law, Judah gives Tamar to his next son, Onan, who refuses to impregnate her. The Lord takes his life as well (Gen. 38:10).
Upon the birth of his next son, Shelah, Judah instructs Tamar to wait at her father's house until Shelah grows up. At that time he will become her husband. Throughout Gen. 38:1–11 Tamar says absolutely nothing. She simply goes along with the plans of others. Her passivity, however, is about to come to an end.
After a period of time Judah's wife dies. This leads to one of the shortest business transactions in the Bible (Gen. 38:12–23). Judah propositions a disguised Tamar. She asks for payment. He promises a young goat. She demands a pledge. They have intercourse. She conceives. They both go their way.
Then one day Judah discovers that Tamar is pregnant. His response? "Bring her out, and let her be burned" (Gen. 38:24b). On the way to her execution Tamar produces shocking evidence, proving that the father of her twins is none other than Judah (38:25). Tamar is vindicated, not only by Judah (38:26), but also through the birth of her twin boys, named Perez and Zerah (38:27–30).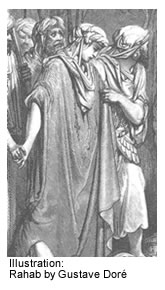 Tamar dressed up like a prostitute; that's bad enough. But hold on to your hat, because Rahab was a prostitute (Joshua 2:1). And adding insult to injury, Rahab was a dreaded Canaanite. So despised were these inhabitants of the Promised Land that, when Zechariah pictures the glories of the age to come, he states, "There will be no longer a Canaanite in the house of the Lord" (Zech. 14:21 NIV).
In some texts (e.g., Is. 23:8; Ezek. 16:29; Zeph. 1:11) the word Canaanite denotes "salesman/merchant." In contrast to Israelite society that was founded upon the gift of land for everyone (e.g., Num. 26:53–56; 33:53–54; Joshua 13–19), Canaanites supported economic activity that confiscated land from the poor and gave it to the rich (e.g., 1 Kings 21). Yet, in spite of her sordid Canaanite connection, Rahab the prostitute is commended for her faith (Heb. 11:31) and for her works (James 2:25).
It was bad enough that Canaanites worshiped the abominable deities called Baal and Asherah, but Moabites paid homage to the detestable god Chemosh, who went so far as to demand child sacrifice (cf. 2 Kings 3:26–27). And, horror of horrors, Matthew ushers the next person on stage, who goes by the name "Ruth the Moabite," a title she receives not once, but six times (Ruth 1:22; 2:2, 6, 21; 4:5, 10). Earlier in Israel's history, Moses made it clear that "no Ammonite or Moabite may enter the assembly of the Lord. Even to the tenth generation, none of them may enter the assembly of the Lord forever" (Deut. 23:3 ESV).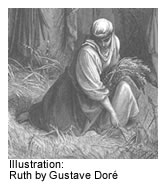 Ruth, like her predecessors Tamar and Rahab, knows about loss and rejection. The book that bears her name begins with a famine, a hasty move, and the deaths of her father-in-law, her husband, and her brother-in-law. But, also like Tamar and Rahab, after excruciating pain, Ruth experiences exhilarating victory. The genealogy at the end of the Book of Ruth, which may have been one of Matthew's sources, connects Ruth with Israel's great king, David (4:18–22).
Matthew's list of "questionable" women related to Jesus ends with "the wife of Uriah" (Matt. 1:6). Like her female predecessors in Matthew's genealogy, her story also begins in tragedy. It was springtime and David, instead of going to war, strolls on the palace roof. He beholds a beautiful woman bathing and, in staccato-like fashion, finds out her name, sends for her, takes her in, and the two have sex (2 Sam. 11:1–4).
Sometime later Bathsheba sends a three-word message to the king: "I am pregnant" (2 Sam. 11:5). Again, acting with decisive bravado, David orders her husband, Uriah, to return from the battle. Little does Uriah know that his refusal to have sex with his wife becomes a sentence of death (2 Sam. 11:6–21). In the next episode Nathan the prophet makes it clear that David is the guilty man (2 Sam. 12:7). But Bathsheba suffers also. Both her husband and baby die. Late in life, vindication comes. Another son, Solomon, becomes Israel's third king (1 Kings 1).
Tamar dresses up to look like a prostitute and is accused of adultery. Rahab is a Canaanite prostitute. Ruth is a Moabite and one night goes to the threshing floor, something no "nice" woman would do (cf. Ruth 3). And Bathsheba not only bathes openly, but is later instrumental in the death of Adonijah (1 Kings 2:19–25). In spite of their sin, all four of Matthew's women are delivered by extra-ordinary circumstances. Tamar is saved from burning at the stake, Rahab is delivered from Jericho's demise, Boaz spares Ruth from famine and death, and Bathsheba lives long enough to see Solomon become one of the wisest men ever to live (cf. 1 Kings 3).
Tamar, Rahab, Ruth, and Bathsheba demonstrate how God chooses "what is foolish in the world to shame the wise" and how He chooses "what is weak in the world to shame the strong" (1 Cor. 1:27). Their presence in Christ's lineage foreshadows Jesus' love for other outcasts such as a Roman centurion's servant (Matt. 8:5–13) and a Canaanite woman's daughter (Matt. 15:21–28).
At the heart of Matthew's genealogy is this grand gospel: Jesus loves people who are victims as well as perpetrators of family dysfunction and deceit (Tamar), who feel used and worthless (Rahab), who bury loved ones and endure the pain of leaving their homeland (Ruth), and who are used by others for pleasure only to witness the death of so many dreams (Bathsheba). In the end, these four women's lives are amazing testimonies to what Joseph told his brothers, "As for you, you meant evil against me, but God meant it for good" (Gen. 50:20a).
So Matthew knew what he was doing all along. Could this be the reason he includes this saying of Jesus, twice? "But many who are first will be last, and the last first" (Matt. 19:30; cf. 20:16).
Mary also knew about this good news that turns everything upside down. In Luke 1:52, she sings of her God, "He has brought down the mighty from their thrones and exalted those of humble estate." Just like Tamar, Rahab, Ruth, and Bathsheba, Mary's life began with extreme disgrace and angst. "She was found to be with child from the Holy Spirit. And her husband Joseph, being a just man and unwilling to put her to shame, resolved to divorce her quietly" (Matt. 1:18b–19). But Mary's life was vindicated. She became the very mother of Immanuel, God-with-us (Matt. 1:23; cf. Is. 7:14).
The Purpose of Matthew's Genealogy
Matthew's Christmas genealogy prepares us to follow his narrative and revel in the multitude of his messages of grace. Jesus chooses fishermen instead of Pharisees, sinners instead of Sadducees, and whores instead of Herodians. Climactically, he chooses thorns for His crown instead of silver and gold, and spit and blood instead of sweetness and light. His choices lead to torment and torture and darkness and death.
And this led to the greatest shock of all. "Do not be afraid, for I know that you seek Jesus who was crucified. He is not here, for He has risen, as He said" (Matt. 28:5b–6a). Jesus is Life overriding death and making all things new. "The stone that the builders rejected has become the corner-stone; this was the Lord's doing, and it is marvelous in our eyes" (Matt. 21:42; cf. Ps. 118:22–23).
Let's face it. Try as we might, this year's Christmas pageant won't be exactly perfect. Isaiah 9:2 may be misquoted, the Babe's swaddling clothes may slip off at an inopportune moment, the Christmas tree may remind us of Charlie Brown's sorry-looking stick, and the innkeeper may forget his lines, again!
That's okay.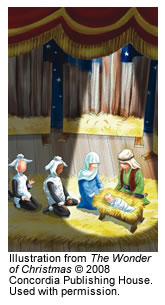 Let it remind you of how Matthew introduces Jesus. It is not with glitter and Hollywood glitz. There are no fireworks or fine pedigrees. Matthew doesn't incorporate the kind of people who are finalists on American Idol. Rather, he selects four broken and outcast women, who in so many ways are just like us. No wonder he records this stunning promise just after his genealogy: "She will bear a son, and you shall call His name Jesus, for He will save His people from their sins" (Matt. 1:21).
Thank God for annual Christmas pageants.
Thank God all the more for the one inspired by the Holy Spirit and penned by a man named Matthew!