by Rev. Jerry Kieschnick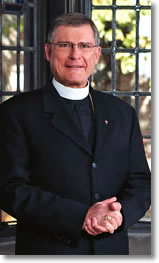 It's easy to rejoice when there's good news; it's not so easy when the news is bad.
We're happy when the price of gasoline is closer to $2 a gallon than $4. Word of a birth is great news—the Lord has given the gift of new life! Conversely, it's hard to rejoice at news of a death, or to learn that a loved one has been diagnosed with cancer or some other terrible disease.
Much of the news we have heard in recent days is bad news. The economy is shaky at best. Armed conflict continues around the world. Terrorists still threaten our well-being. It's understandable that such news could make a person fearful. How ironic it is, then, when we read in Luke 2 about the angel of the Lord announcing the birth of a Savior, that such good news is not met immediately with rejoicing, but fear!
What were the angel's first words? "Fear not!" Then he said, "For behold, I bring you good news of great joy that will be for all the people. For unto you is born this day in the city of David a Savior, who is Christ the Lord" (Luke 2:10–11 ESV).
Psychologists regularly report that during holidays, including the Christmas season, people's emotions are not necessarily—certainly not exclusively—positive and joyful. Holidays are a time of reflection on the past, on good times and bad. Sometimes, reflections on the bad times overshadow the good.
Thoughts may turn, for example, to the good times we enjoyed in Christmases past with loved ones who no longer are with us. Such reflections on the death of someone near and dear certainly can put a damper on an otherwise joyous occasion.
What's more, uncertainty about the future can make us fearful. Even at Christmas, we can experience the fear and anxiety that often accompany uncertainty about our economic well-being, job layoffs, the declining value of our home or pension fund, et cetera, et cetera.
In the midst of such uncertainty and fear, we do well to heed the words of the angel: "Fear not, for behold, I bring you good news of great joy that will be for all the people. For unto you is born this day in the city of David a Savior, who is Christ the Lord. And this will be a sign for you: You will find a baby wrapped in swaddling cloths and lying in a manger."
We, like the angels and the shepherds, know that the baby in the manger is none other than Jesus the Christ, Savior of the world and Lord of the universe. He is the One who now invites us, "Come to Me, all who labor and are heavy laden, and I will give you rest" (Matt. 11:28). He tells us to "seek first the kingdom of God and His righteousness, and all these things will be added to you. Therefore do not be anxious about tomorrow, for tomorrow will be anxious for itself" (Matt. 6:33–34). He proclaims that He has come that we may have life, and have it abundantly (John 10:10). Christ's words of comfort and assurance, especially in times of fear and uncertainty, give us hope and joy!
During this Christmas season, may your hearts and homes be filled with the sometimes quiet, sometimes exuberant joy of this blessed time of year. Terry and I send our love, best wishes, and Christ-filled Christmas greetings from our home to yours. And may the peace of God that passes all understanding keep your hearts and minds in Christ Jesus!
Lives Transformed through Christ, in Time . . . for Eternity!
e-mail: president@lcms.org
Web page: www.lcms.org/president