by Diane Strzelecki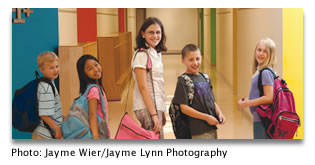 As the 286 preschool and grade-school students of Immanuel Lutheran School, Batavia, Ill., arrive each morning, they are met by Principal Glenn Steinbrenner and one of the church's three pastors. On this particular day in late May, the church's senior pastor, Rev. Ronald (Ron) Weidler, welcomes each student by name. If a child is celebrating a birthday, Weidler knows it and adds a hearty "Happy Birthday!"
Between waves of students, principal and pastor chat about school events, students, upcoming challenges, and other topics. Their conversation is punctuated with laughter. They are relaxed yet attentive to one another.
A similar relationship prevails between congregation members and school families, who report that mutual respect guides every aspect of their shared ministry. "We work together at so many different levels," notes Chris Brown, a congregation member for 18 years and a current school-board member. "I really think of all of us as 'church families.'"
From Challenges to Blessings
Given the school's history, it's significant that today Immanuel is considered "a model or a pattern worth imitating" by the National Lutheran School Accreditation (NLSA) Commission. Founded in 1882, Immanuel attempted to establish a school in the early 1900s and again in the 1950s, but both ventures failed.
When the church relocated in 1986 so it could have room to grow, the congregation again evaluated adding a school and voted to do so.
"Because of the historical failures at trying to conduct a school ministry, that decision was not a unanimous one," notes Weidler. Nonetheless, Immanuel Lutheran Preschool opened in 1989; in 1993, a kindergarten was added. By the time Weidler accepted the call to be senior pastor in 1996, the congregation had just voted to try once again to start a grade-school ministry.
The church was also growing. "In 1996 our average worship attendance was 320," Weidler says. "We ended 2008 with an average attendance of 640."
Immanuel's leaders watched the trends closely. In 2003, the congregation voted to add a Family Life Center, which included a gymnasium, an institutional kitchen, and a middle-school wing.
But things did not go as planned.
"A small group of neighbors did not want us to build," Weidler says. "They complained that our new facilities would be too large, too tall, built on insufficient land, etc., etc." In an effort to stop construction, the group sued the congregation, the Synod, the city of Batavia, and Weidler personally.
"It was a frustrating and trying time, to say the least," Weidler says. "But our Lord promises All things work together for the good of those who love God. In a very real way, that lawsuit brought everyone at Immanuel together for mutual help and defense."
Brown agrees. "We needed to expand our facilities for our ministry," she says. "We were united in taking the path we did."
Immanuel's Family Life Center was completed and dedicated in 2005. Larry Fass, who joined Immanuel four years ago, says that today the property conflict is truly in the past. "The focus now for Immanuel: Be a good neighbor," he says.
Leading the Way to a Seamless Ministry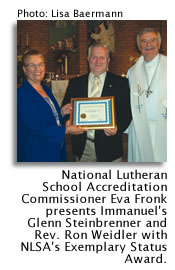 When granting the school NLSA's Exemplary Status Award for the 2009– 2010 academic year, evaluators made special note of the "seamless team ministry" of Immanuel's pastoral and educational staffs.
Terry Schmidt, associate director of schools for the LCMS Board for District and Congregational Services, notes that the exemplary status is reserved for schools that exceed the required accreditation standards. Just two other schools (out of more than 2,000 eligible institutions)—Trinity Lutheran School, Elkhart, Ind., and Good Shepherd Lutheran School, Collinsville, Ill.—were granted exemplary status for the current academic year.
"One of Immanuel's evaluators remarked that teamwork was 'dripping from the rafters,'" Schmidt says. "If we had this in all of our congregations that support a school, our school system would be even better than it is."
"I would hope that a seamless ministry would be the goal for every congregation with a school," Weidler says. "Yet, it's not something you can just pray or wish into existence. . . . God has blessed us in recent years so that it has become a reality for us."
Reed Sander, Northern Illinois District mission facilitator for schools, says that Steinbrenner and Weidler model seamless ministry because they both focus on overall congregational ministry.
"Steinbrenner has a responsibility as ministry director of the school while considering the wellbeing of the congregation as a whole," Sander says. "Pastor Weidler is consistently active in the school ministry—he is always active and visible at the school and its functions."
Bev Jass, who has belonged to Immanuel for more than 23 years and served on the school board for 6 years, says the attitudes of Immanuel's leaders are a big influence.
"You see the school staff involved in the church, serving on boards and committees and volunteering their time," Jass says. "That means a lot to the congregation."
Jass also appreciates that school events are announced at the end of church services and that a combined newsletter is sent to all Immanuel households.
"Even if you don't have children in the school, you know exactly what is being taught, and you hear about every opportunity to be involved," she says, adding that she and her husband, Bob, participate in nearly everything the school does, from fund-raisers to basketball games.
For Elvin Harms, vice president of the congregation and a member for 29 years, it comes down to one word: unity.
"Church and school are not separate by any means," he says. "This is Immanuel."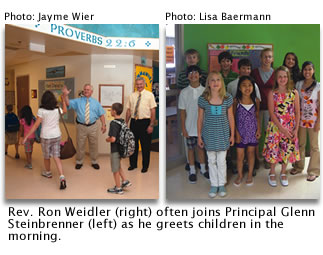 Lessons in Outreach
Steinbrenner is grateful that all three pastors give their unconditional support to the school.
"There is no other ministry of the church where individuals have the same amount of exposure to the Gospel message," he says. "The congregation and pastors must view this ministry as a priority."
Sander notes that an effective Lutheran school is never an "add on" to a church: it is "part of" the church.
"Whenever a school is seen in separation from the church, it loses its effectiveness as a ministry," he says.
Brown knows the importance of teamwork from her involvement in Immanuel's Stephen Ministry, a system for training and organizing laypeople to provide one-to-one Christian care to congregation members and the community. She reports that Steinbrenner is just as educated about Stephen Ministry as she is.
"If he sees a need, he has the information and has built the relationships where he can offer parents and family members Immanuel's Stephen Ministry as a resource," she says.
Corrinne Ellis and her family came to Immanuel for the school and stayed for the church.
"I love how everyone at school and church work or volunteer to the best of their abilities—not for the glorification of themselves but for the glorification of God," she says. "We aren't perfect Christians, as Pastor Weidler often says, but we work hard for our community doing the best that we can."
For Jass, the school makes the church stronger. "It's good for everyone, and that strength seems to permeate everything else," she says. "Our outreach into the community is a wonderful witness, and through it we've gained active, strong members."
Lisa Baermann and her husband are members and parents of four children: a recent graduate, two grade-schoolers, and one soon-to-be Immanuel preschooler. She notes that serving the community is a priority for Immanuel—and members actively seek opportunities to do so.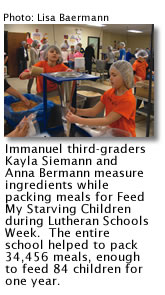 "During Lutheran Schools Week, our students and congregation members volunteer at a nearby Feed My Starving Children site, assembling meals to be shipped to poverty-stricken areas around the world," she says. "In the fall, students cook a Thanksgiving meal for older people in our church and community, and each month individuals and families prepare weekend meals for Lazarus House, the homeless shelter that serves our Tri-City area."
Immanuel volunteers have even done simple kindnesses such as handing out bottled water at a busy neighborhood bike-path intersection. "It
seemed like the right thing to do on such a hot day," Harms says.
"I think that the LCMS's Ablaze! emphasis encouraged us to focus on reaching beyond our walls," says Dan Gatz, chairman of Immanuel's Board of Trustees.
Harms says additional inspiration came from reading The Present Future by Reggie McNeal.
"The book outlines how the church should gird itself for the future," Harms says. "It said that one way to do this is to connect with the community and find out what the needs are."
And connect they did: Immanuel invited Batavia's aldermen and mayor to an administrative council meeting. After being astounded by the question, "What can we do to help?" the mayor shared his concerns about the city and promised to find a way for Immanuel to pitch in.
"As a result, we were put in touch with the city compliance officer, who contacts our group directly when our help is needed," Harms says. Thus, the "Hart to Hearts" outreach program was launched (Hart refers to the street that borders the church/school campus).
"City Hall gives us names of individuals in town whose properties have fallen out of compliance with various codes," Weidler says. "Usually, this is due to old age, poverty, or the physical inability to do the work needed to keep up their home."
Gatz, who acts as the liaison between the city and Hart to Hearts, says volunteers come from both the church and school—and there's a waiting list. "We have a wonderful volunteer pool, from people who have never swung a hammer to skilled tradesmen," he says. "They all work together quite well to solve the residents' problems and bring their houses up to code." And, Gatz notes, they all work with servants' hearts.
"We don't promote the church— there's no sign in the front yard, we don't wear matching T-shirts," he says. "But if the opportunity arises, we're there to tell them who we are and why we're there."
"We hope to expand our presence," Harms says. "We'll continue to keep our eyes and ears open for the opportunity to show Christ's love wherever we can."
Hart to Hearts' finished projects include deck repair, siding restoration, installation of a stairway and landing, and landscaping cleanup. Hoping to reduce or even eliminate the cost of materials and supplies, Gatz negotiated with a "big box" home-improvement center for a corporate sponsorship before Immanuel began its first project nearly a year ago. The sponsorship fell through—which, Gatz feels, is likely due to the economy—but store employees remain helpful.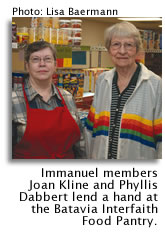 "We have our own contact who helps us estimate materials and project needs," Gatz says. "We do get a contractor discount, as well as discounts on big-ticket items."
And the Immanuel community continues its unwavering support.
"As projects come up and needs arise, we find that different people step forward to do what they can," Gatz says. "I put an announcement in last weekend's bulletin that we needed an ADA [Americans with Disabilities Act] toilet for a resident, and that same Sunday a member approached me and asked who he should make the check out to."
A Partnership for the Future
The last Sunday in May sees Immanuel's 8 a.m. service moved to the gymnasium and incorporating the eighth-grade graduation ceremony. Immanuel has seen 43 students graduate thus far; there are 24 in this graduating class alone. Weidler and Steinbrenner look on from the stage as two graduates speak about what Immanuel means to them.
"Immanuel is more than an ordinary school," says Zoe Balgemann. "Every person I've met here has changed my life for the better. It's not just a building: it's a family."
"Thanks to Immanuel, I have the tools to be a Christian—whatever I do in life," Nate Harms remarks. "I'll miss coming here every day."
Before Steinbrenner hands out the diplomas, he thanks the faculty, staff, and the school board for their faithful work. Applause and cheers fill the gymnasium. Then, one by one, students rise and accept their diplomas as friends, relatives, congregation members, and guests look on, knowing that Immanuel has many reasons to feel blessed.
---
Lutheran schools by the numbers
| | | |
| --- | --- | --- |
| Early childhood centers |   | 1,406 |
| Elementary schools |   | 986 |
| High schools |   | 108 |
|   |   | |
| Students Enrolled |   | |
| Early childhood |   | 131,363  |
| Grades K–8 |   | 120,684  |
| Grades 9–12 |   | 18,867 |
Source: LCMS District and Congregational Services, School Ministry Department, 2008–2009 school year.
Words to Remember
As part of a presentation last March to the National Lutheran Administrators Conference, Rev. Ron Weidler, pastor of Immanuel Lutheran Church, Batavia, Ill., listed a series of steps that enhance the ministry efforts of a congregation.
At the conclusion of his presentation, Weidler reminded his audience that good leaders practice . . .
| | | |
| --- | --- | --- |
| The 6 most important words   |   | I admit I made a mistake. |
| The 5 most important words   | | You did a great job! |
| The 4 most important words   | | What is your opinion? |
| The 3 most important words   | | If you please. |
| The 2 most important words   | | Thank you. |
| The 1 most important word   | | We. |
| The least important word   | | I. |
For an expanded version of Weidler's presentation, click here.