by Adriane Dorr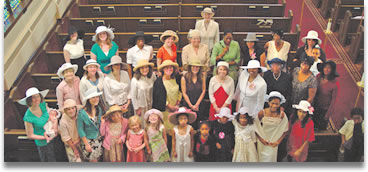 Photo courtesy Steve Blakey/BB Design
Once upon a time, a long time ago, ladies and gentlemen "dressed" for church. "Sunday best" was a reality and a fact of life. Women wore hats and gloves; men, suits and ties, even in warm weather.
Today, of course, almost anything goes, and except, perhaps, for the occasional grandmother, in most congregations women's hats have all but disappeared, just as they have in much of our wider culture.
However, in at least one Indiana LCMS congregation, wearing hats to church isn't just for grandmothers—or great-grandmothers—anymore. While a small Lutheran church tucked into a corner of Fort Wayne may not be a Paris fashion-house runway, women there are determined to keep the tradition of wearing hats alive.
This year, from Easter Sunday to Mother's Day, they pulled their grandmothers' hat boxes from the attic or off closet shelves, or scoured Nordstrom's, Macy's, and other stores, including re-sell-it shops and vintage-clothing stores, for just the right hat.
On Easter Sunday at Redeemer Lutheran Church in Fort Wayne, nearly 40 women donned feathered and beribboned hats for Sunday service. While the enjoyment was tangible, and the smiles in the congregation universal, the occasion didn't just happen. It was the result of careful planning.
Nearly six months earlier, Redeemer member Nancy Osbun had seen Regina Taylor's Gospel musical "Crowns," which "celebrates African-American women and the tradition of wearing hats," she explains. Critiquing the musical with fellow church member Roberta Ridley, "our conversation afterwards morphed into challenging each other to wear Easter hats," Osbun says.
So the word was out, and the challenge began. Talk of wearing hats spread throughout Redeemer, especially among the roughly 20 women who gather socially each month for hospitality and fellowship. Osbun broached the idea with the group, fondly self-labeled "the Bunkettes" for their favorite parlor game, bunko. "The enthusiasm was immediate," Osbun recalls.
As the months wore on, "we kept the idea alive, and as Easter got closer, we began to ask each other, 'Do you have your hat yet?'" she explains.
Thanks to the online networking Web site Facebook, the women encouraged and reminded each other—and fellow members more skeptical about the endeavor—to find a hat, even up until the day before Easter.
Osbun says the congregation was not disappointed. Those attending Redeemer on Easter Sunday witnessed an array of colorful hats. "I've always been a bit scared of wearing hats," admits Jane Casey, who found her vintage, cream-colored pillbox hat on eBay, "but I wanted to. Knowing that the other ladies were wearing them gave me the guts to do it. Now I want to wear one every week."
"I loved seeing how every woman expressed her individual sense of style through a common medium," says Bethany Casey, Jane's daughter. "Each hat really seemed to fit the personality of the wearer."
But finding the perfect hat isn't as easy as it seems, Bethany explains. "I waited until the last minute to find my hat. I love that it is vintage (it was sold originally by Wolf and Dessauer, a Fort Wayne department store, in the late 1940s or early 1950s). I added my own scarf to freshen it up."
Others found hats at modern department stores. Alissa Ulmer found hers, just in the nick of time, at Macy's. Lauren Braaten tried on several hats at T.J. Maxx before deciding on both a hat and new Easter outfit. "I decided to pick a hat that I loved and then build my Easter outfit around it," she says. "After trying on a few brightly colored ones, I chose a bisque-colored floppy hat that I knew I would wear again." When he heard about the hat project, Fort Wayne photographer and graphic artist Steve Blakey imagined a colorful Easter Sunday photo opportunity. He made a mental note to bring a camera to church.
"'Just a few Easter hats. No big deal,' I thought," says Blakey, an elder at Redeemer. "But when I found the actual number of participants was close to 40, I started getting nervous, and I was a bit overwhelmed."
Osbun says Blakey's pictures mark the beginning of a trend at Redeemer, one that the women continued on Mother's Day and plan to expand this fall.
"I think hats will begin showing up more often," Osbun says. "We found out that wearing hats is fun."
And with all this talk of fashion and finery, what do Redeemer's men have to say? "It was great fun having all the hats in church. I suppose it could have been distracting, but it wasn't," says Rev. David Petersen, pastor of Redeemer. "The women simply looked elegant and were obviously bursting with joy. I expect it will become a tradition, and I am glad for it."