by James Heine
Last summer, Concordia University, Irvine, junior Megan Wright served an internship with Lutheran Summer Music (LSM). Wright, a music-education major, worked as a teaching assistant and, from time to time, administrative assistant. During LSM's annual college fair, she served as an ambassador for her school.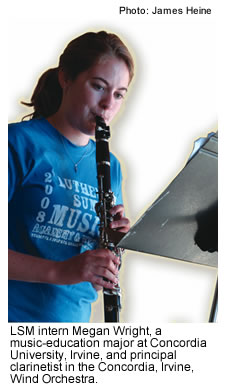 Now a senior at Concordia Irvine and looking forward to a career as a Lutheran schoolteacher, Wright says she "grew tremendously" at LSM, not only as a staff assistant but also as a musician. (Internships include opportunities for study and solo and ensemble performance.)
"LSM helped me to become a more confident player and taught me lessons that will stay with me for a very long time," explains Wright, whose home congregation is Light of the Hills Lutheran Church in Cameron Park, Calif. "LSM is not only a place to grow musically but a place where you learn to integrate faith and music. I am very thankful for the opportunity."
At Concordia, Wright plays principal clarinet in the Concordia Wind Orchestra. She is also a member of the Concordia Woodwind Quartet and is actively involved in the university's expansive hand-bell program. For fun, Wright adds, she enjoys playing in the Concordia Percussion Ensemble.
Now a senior, Wright says she is thankful that Concordia professor Jeff Held, and the university itself, made it possible for her to attend LSM and serve as an intern.
"I would highly recommend LSM for all students," she says.