by Dean Nadasdy
On its Web site, Concordia University Texas (www.concordia.edu) offers a helpful description of a DCE. Here is an abbreviated version:
A director of Christian education (DCE) is a synodically certified, called, and commissioned life-span educational leader prepared for team ministry in a congregational setting.
In this setting, a DCE is
called minister of the Gospel;
a trained parish-education specialist;
a team minister who works with the pastor, staff, and lay leaders of the congregation;
a teacher of the faith; and
a trainer of the laity for service.
DCEs serve in a variety ways, not only in youth ministry, but also  in family ministry, cross-cultural  ministry, and outdoor ministry, to  name a few. In order to meet the  demands of the job, many skills are required of a DCE:
Enjoyment in working for and with other people
Good organizational and administrative skills
Ability to recruit and involve others in ministry opportunities
Initiative, creativity, and flexibility
A willing spirit to serve the Lord, His Church, and others in mission and ministry.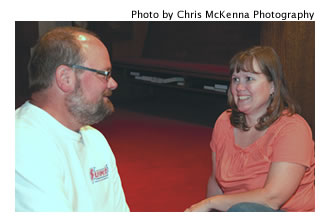 DCE Amy Schweim serves Immanuel Lutheran Church in Puyallup, Wash., as its director of children's ministry. Here she confers with Kirk Hinman, director of Immanuel's evangelism team. A mother of three, Schweim has served Immanuel since 1995. In addition to children's ministry, she focuses on music ministry and social (homeless) ministry. She also is active at the district level and serves on various community boards. "Working together with Amy has been a real highlight of my ministry," says Rev. John Biermann, pastor of Immanuel. "She is a team player who has a passion for reaching God's people with God's hope."