by Roland Lovstad
In these tough economic times, our LCMS colleges and universities are responding to needs in their communities, offering education opportunities with a strong Lutheran Christian perspective.
"Why in the world would we think about doing that?"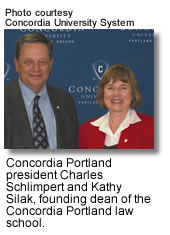 Dr. Charles Schlimpert admits that was his first thought when someone proposed that Concordia University, Portland, Ore., begin a law school—not only clear across the state, but actually in Boise, Idaho.
"Then we got to thinking about the impact we might have as a church school," explains Schlimpert, Concordia Portland's president. "As we looked around the country, there were very few law schools that even claim church affiliation, much less practice their faith."
Educational opportunities challenge the 10 colleges and universities of the LCMS Concordia University System. They are rising to these opportunities to serve their communities with the same commitment they have to serve the church and our Lord, not losing sight of their responsibilities to prepare professional workers for the church.
'We Should Be Doing This'
Concordia Portland is projecting that its Boise law school will open in the fall of 2011. The decision to open the school follows more than a year of careful exploration by Schlimpert and others. The idea was posed by regents and supporters from Idaho, who noted that Boise was one of the few state capitals that didn't have a law school. The only law school, at the University of Idaho in Moscow, is 300 miles away.
In February 2008, Concordia Portland held a two-day conference of area church leaders to tackle the question, "What does this mean—for us?" School leaders invited Dr. Samuel Nafzger, then the executive director of the LCMS Commission on Theology and Church Relations, to lead the discussion.
"By the time we were done, everybody was saying, 'You know what, we should be doing this,'" Schlimpert said. "The idea of addressing the issue of ethics and values in the practice of law, and particularly in service to other people, seems to be a void that people want to address. Who better than a Lutheran school to do that?"
According to Schlimpert, the plan is to raise enough funds for the first three years of operation before actually beginning. Cathy R. Silak, a former supreme-court justice in Idaho, was hired as the founding dean. She will focus on planning and building financial and community support for the school. Already, the university has received some 300 inquiries from potential students and 150 requests for information about faculty positions.
In the Midwest, Concordia University Wisconsin intends to open a school of pharmacy in the fall of 2010, becoming the second university in the state to prepare pharmacists. Although Concordia already has 45 students in its pre-pharmacy program, admission will be competitive and applications are expected from throughout the country. Following a "two/four-year" model, the program will have students take a minimum of two years of pre-pharmacy courses before entering the four-year professional pharmacy program.
"We're going to be preparing pharmacists who will have a fundamental grounding in Christian morals, ethics, and caring," said Curt Gielow, executive dean. "As we get to the point of specific medication and therapies that are gene specific, I think it is important that health-care providers be grounded in Christian ethics." Gielow, an elder at St. John's Lutheran Church, Glendale, Wis., sees future pharmacists engaging their patients in more holistic approaches, meeting them in front of the counter to talk about lifestyles and decisions about medication.
Gielow, who began his career as a pharmacist and later served as a state representative, spearheading Medicaid reform, is responsible for external relations and fund development. Serving as academic dean to develop the curriculum and achieve accreditation is Dr. Dean L. Arneson, formerly on the faculty at the University of Oklahoma, Tulsa.
"We don't anticipate a shortage of students," he said.
The plan is to enroll 50 to 75 students in the fall of 2010.
While plans include a building, Gielow said the school will use temporary quarters until funds can be raised for a new building. "We will continue as diligently as the Lord blesses," he said.
More Offerings in the Health Sciences
Concordia Wisconsin offers a number of health-science programs, including graduate programs in occupational and physical therapy. And health-science programs are growing at the other Concordias as well.
Last fall, Concordia College, Bronxville, N.Y., became the fourth Concordia to offer a program in nursing. (Concordia University, Irvine, Calif.; Concordia Wisconsin; and Concordia Portland also offer majors in the field, addressing the national need for nurses.)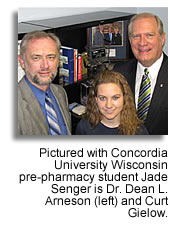 Offering an accelerated program, Concordia Bronxville initially admitted 23 nursing students. All already hold a bachelor's degree in another field and want to complete a bachelor's degree in nursing. The first class includes students from diverse backgrounds, and it ranges in age from 21 to 50.
"It is quite an intensive program," observed Dr. Susan Apold, dean of the division of nursing and a member of Village Lutheran Church in Bronxville. "In 15 months, students will earn 61 credits—the equivalent of two college years. It is the same as any nursing curriculum; there is no watering down of clinical time or theoretical content.
"This is such an easy thing for me," Apold said in regard to the Christian mission of her college. "I've personally embraced the idea that nursing is a calling.
"We make sure we include the spiritual health of patients," she continued. One course specifically explores the spiritual and cultural competence of registered nurses, emphasizing that nursing is more than just a technical skill. Regardless of their personal faith backgrounds, the students appreciated the course, Apold said.
Bringing Expertise to the Community
Building on its expertise in teacher education, Concordia University Chicago has taken its curriculum to the metropolitan area. In dozens of locations, "cohort" groups of teachers meet one night a week to learn from a Concordia professor. Through a predefined series of courses (no electives), they can work toward master's degrees in teaching, curriculum and instruction, school counseling, or school leadership.
Since the first cohort of 25 students began in 2003, the university has seen graduate enrollment exceed 3,200 students, while its undergraduate enrollment has held steady at about 1,100.
Convenience, lower tuition for cohort groups, and degree completion in two years are all attractive to working teachers, according to Dr. Manfred Boos, vice president for academics. He added that pending retirements of school administrators in Illinois also prompted younger teachers to earn credentials to move from the classroom to principal and superintendent offices.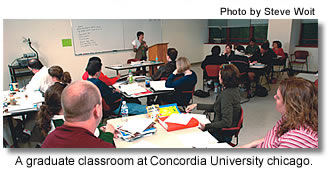 "One thing we had going for us was the fact that we had a long tradition in teacher education," Boos observed. "Concordia is known as a quality program in undergraduate and graduate education, and we build on the experience and reputation we have. It's not something every university can do."
The program fits the mission of Concordia Chicago, Boos said. "We want to be a comprehensive university that is equipping men and women to serve in the church and the world. That's not just undergraduates for Lutheran schools but in all areas of education and other professions."
Concordia University, St. Paul, Minn., has adopted a similar model, taking courses to areas where teachers can gather in the cohort model. Graduate enrollment has risen to more than 600. Concordia St. Paul also has formed a partnership with Dakota County Technical College and the city of Burnsville to bring higher education to that Twin Cities suburb.
"We are working on a number of agreements to allow technical-college graduates to move on from the associate degree to full bachelor-degree programs," explained Dr. Eric LaMott, vice president for administration. While it began with business programs, the university has added kinesiology, health sciences, and early-childhood education.
Students have the option to come to the St. Paul campus or continue their two years in an accelerated cohort through one-night-a-week classes in Burnsville. LaMott said the university is also working with other community colleges as well. "During these financially tough times, this is a way for students to continue on to get their bachelor's degree," he said. "Many students would prefer to go to a private school, but it's just that the economics are difficult."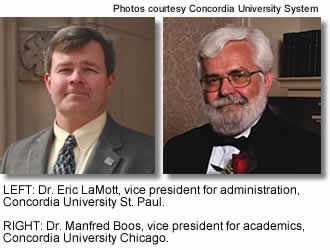 As the universities broaden their reach, LaMott notes this: "A lot of times we used to be thought of as preparing pastors and teachers. Now I say we're not only working on the pulpit, we're working on the pew, too. For example, look at all the people in the business world and the ethical needs that are required in all the different industries. I think there is a role the higher-education institutions of the Synod can play—and it's a much needed role."
Dr. Kurt Krueger, executive director of the LCMS Board for University Education, said the system expects its adult student population to continue to grow, which typically happens during economic downturns. Currently Concordia University System schools enroll about 13,000 undergraduates and 10,000 graduate students. Concordia College, Selma, Ala., and Concordia Bronxville are the only two institutions that do not offer graduate programs.
"If the trend continues over the next two or three years, there will be more graduate students than undergraduate students," Krueger said. He added that today many undergraduate students are slightly older as they work through degree-completion programs.