by Rev. Richard C. Eyer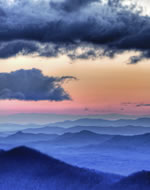 This end was the death of my mother-in-law. My wife and I had decided to drive the 65 miles from Milwaukee to Chicago after early church to see her failing mother at the nursing home. She had been failing for weeks but hung on just enough to keep us all off balance in our plans for the immediate future.
I had been there before, waiting at the bed-side with patients when I was a hospital chaplain. I had seen the uncertainty and ambivalence of family members awaiting the death of a loved one. I saw the concern for each other as well as the impatience with death, waiting patiently for something no one wants to have happen yet knowing it is time for it.
Each of Mom's children had taken their turn at the bedside over the past several weeks, even as they had done several times before in her lifetime, wondering if this would be the time of her departure. My wife's family is very close and has always supported each other well.
I focused on supporting my wife. Being a support to in-laws is different from being part of the immediate family. In-laws are sometimes required to wait on the sidelines like a coach, supporting the players so they can play their best.
There is helplessness, even loneliness, in being a coach. You are not a player, and you can-not act like one. It interferes with the game, and you risk being ejected from the game at times. However, you do have to be a coach, even if it is only for one player at a time.
My wife and I had gone to early worship in order to receive the Lord's Supper and then drove immediately to see her mom. We arrived about 11:20 a.m. that morning, and as we stood in her doorway, she waved and tried to speak, a good sign since she had been largely unresponsive on other visits. Because she was having some breathing problems, the nurse assisted her with her oxygen mask but with little success. The mask was removed. Mom remained agitated and did not speak except to suddenly turn toward me and, with urgency in her eyes, call my name.
The seriousness in her look as she spoke my name reminded me of a similar time: when my own mother died. We had accompanied my mother to the hospital emergency room, and as she was being admitted to the hospital, she turned to my wife and said, "Take good care of my son!" It was Mom's last request. I now heard my wife's mother asking me to do the same for her daughter, so I became her coach in the final minutes of the game.
Because my mother-in-law was agitated and restless, we began to sing hymns to her. She calmed down. I read parts of Psalm 62 to her:
"For God alone my soul waits in silence;
from Him comes my salvation. He only is
my rock and my salvation, my fortress; I
shall not be greatly shaken. For God alone,
O my soul, wait in silence, for my hope is
from Him. . . . On God rests my salvation
and my glory; mighty rock, my refuge is God.
Trust in Him at all times, O people; pour out
your heart before Him, God is a refuge for
us. Once God has spoken; twice have I heard
this: that power belongs to God, and that to
You, O Lord, belongs steadfast love" (Psalm
62:1–2, 5–8, 11–12 ESV).
We then prayed for Mom's peace, and my wife sang "Amazing Grace," later recalling the words, "Through many dangers, toils, and snares I have already come; His grace has brought me safe thus far, His grace will lead me home" (LSB 744:3).
As we sang, her mother's color changed. She took three more breaths and then stopped. As my wife later recalled, "We sang her into heaven," just as we had done with my mother a few years ago.
It has been a few years since I retired as a hospital chaplain, but all those previous times of waiting at the bedside with families has come back to me in a flood of tears. I have been with what seems like dozens of patients at their time of death, waiting with families or sitting at the bedside in their absence. I had often walked patients up to the door of heaven, awaited its opening and watched them walk in, then returned to walk again with others.
The hard part is not only in walking others up to the door of heaven but in not being able to walk through the door with them into Christ's fullest presence. But, like many times before, it was now time for me to walk with others again—my wife and her family—as they grieved the loss of their mother, my mother-in-law.
In the end, it is all Christ . . . from the cross to the resurrection, His cross and ours. In our suffering and dying as His faithful ones, we, too, eventually get to walk through the door with Him!
—
About the Author: Dr. Richard C. Eyer (reyer@milwpc.com) is the retired director of pastoral care for Columbia Hospital, Milwaukee, Wis., and emeritus professor and director of the Concordia Bioethics Institute at Concordia University Wisconsin. He is the author of Marriage Is Like Dancing (CPH, 2007).
October 2010