This month's issue of The Lutheran Witness addresses a variety of topics relating to Advent and Christmas, with a special focus on the Virgin Mary's place in history and Lutheran theology.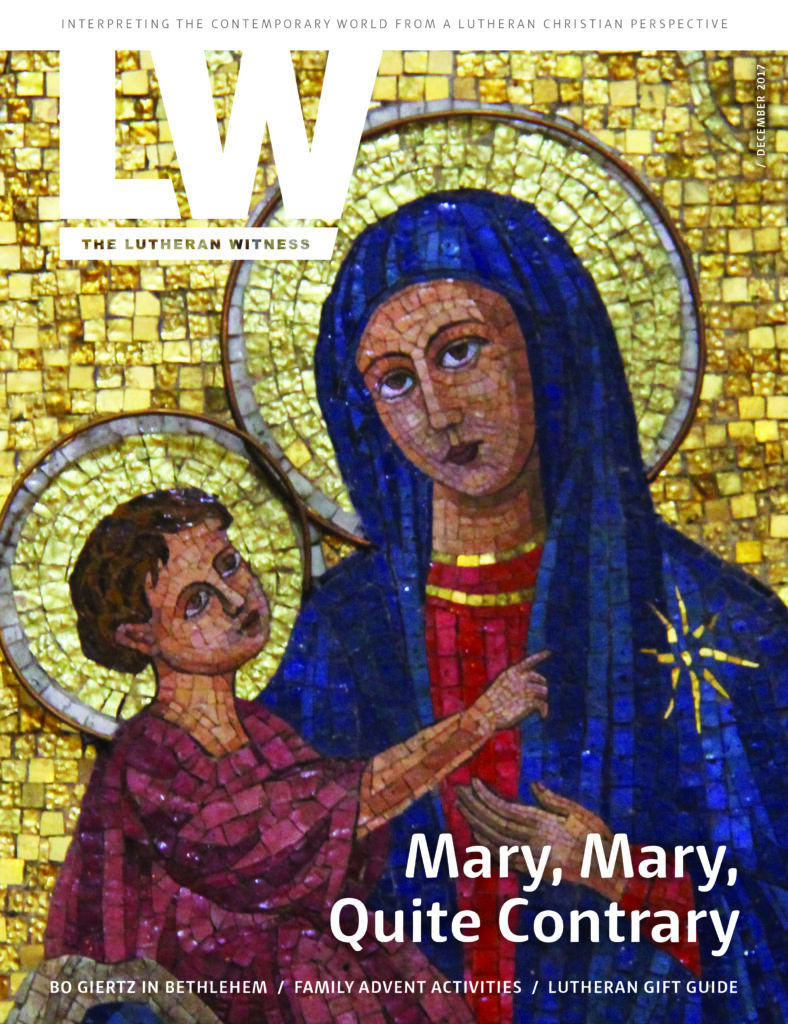 Contents
Features:
Bo Giertz in Bethlehem — Bror Erickson
The girl from Nazareth — Curtis P. Giese
"Lo, How a Rose E'er Blooming" — Stephen P. Starke
Mary, Mary, quite contrary — William Weedon
Oh, come, little children — Lisa M. Clark
LW Christmas gift guide
Departments:
faith and family: A season of hope — Christina Hergenrader
this month in church: Light shines in the darkness — Mark Bender
searching scriptures: The Magnificat — Peter Ill
From the editor
Every year, as I begin making plans for Christmas, I can't help thinking about Mary.
I love Mary. It's easy to love her. She heard and received the good news about Jesus' birth. She proclaimed it in song. She pondered it. She treasured it. And with nine little words — "let it be to me according to your word" — she allowed her entire life, her body, her reputation, her relationships and her future to be completely reshaped by it.
As a Lutheran, though, I sometimes struggle to know what to do with Mary. She carried God in her body (and that never stops being mind-bogglingly amazing), but surely it doesn't therefore follow that we should praise her, pray to her or give her one shred of the glory due to God alone, does it? She's special, we know, but just how special is she?
In this issue of The Lutheran Witness, you'll find articles on a broad variety of topics relating to Advent and Christmas: carols, candlelight, gift-giving and more. But you'll also have the opportunity to get a little better acquainted with Mary — and to think deeply and theologically about what she means to us as Lutherans. I hope that you will enjoy the encounter as much as I have.
From all of us at LW, blessed Advent, and merry Christmas.
Rachel Bomberger
Managing Editor, The Lutheran Witness