The Christmas canticles remind us of the Christmas gift all year long. These canticles from Luke 1–2 all find a place in the church's regular worship. We sing Mary's Magnificat (Luke 1:46–55) in Vespers (LSB, pp. 231–32) and Evening Prayer (LSB, pp. 248–49). The Benedictus (Luke 1:68–79), sung by Zechariah after his son, John, was born, is an option in Matins (LSB, pp. 226–27) and is sung in Morning Prayer (LSB, pp. 238–40). The angel's song to the shepherds (Luke 2:14) launches the Gloria in Excelsis in the Divine Service, while Simeon's song, the Nunc Dimittis (Luke 2:29–32), finds its place after the Lord's Supper in the Divine Service and at the close of the day in Compline (LSB, pp. 258–59).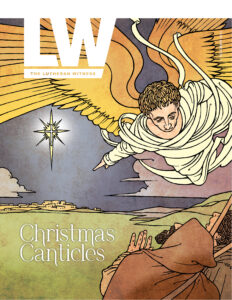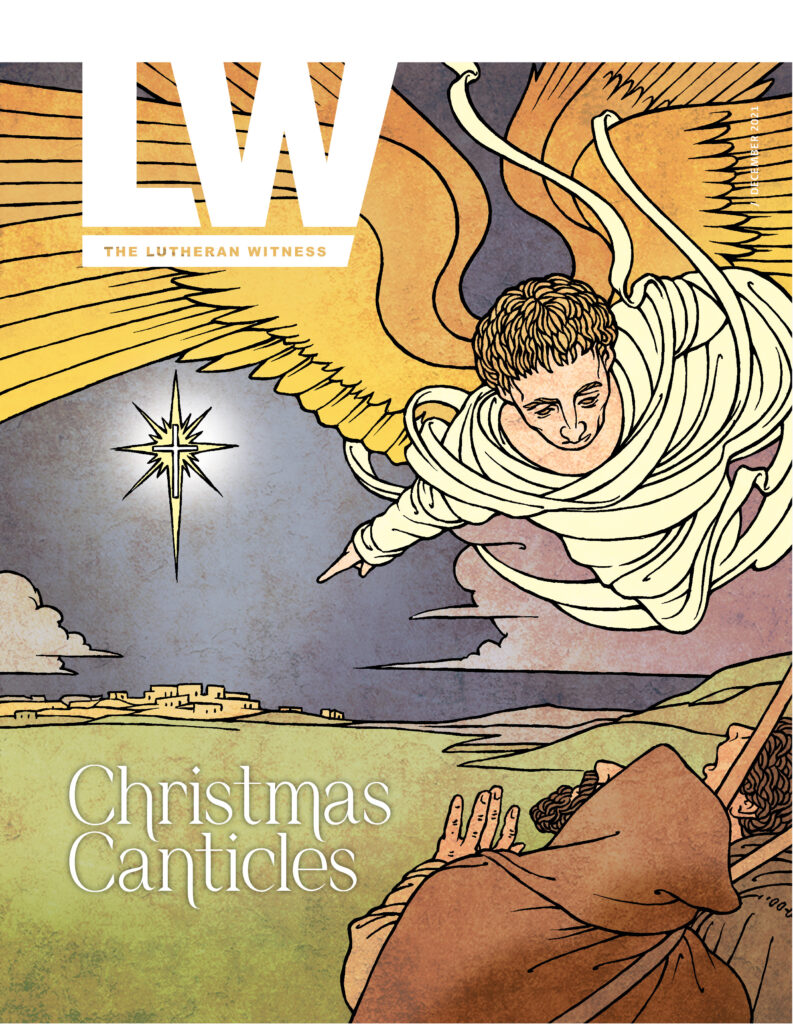 These Christmas canticles were sung around the time of our Lord's nativity. But we have also placed them throughout the church's worship; they serve as a regular reminder of the gift of Christmas — our Lord and Savior Jesus Christ — as each canticle points to Him in a unique way. Enjoy learning more about them in this issue of LW.
I also want to take a moment to introduce some changes for next year. In light of our focus on teaching God's Word and highlighting the treasures of Lutheran doctrine, we are updating the internal design of the magazine beginning in January. Please let us know what you think.
Finally, I am excited to introduce a new series of fiction stories for 2022. In every issue next year, Katie Schuermann will write a new story set in her acclaimed and beloved Anthems of Zion series. If you have not already read the books, I recommend you get them from Concordia Publishing House (cph.org). And, make sure your subscription to LW is paid up for next year. You will not want to miss these delightful stories.
Singing with you,
Roy S. Askins
Managing Editor, The Lutheran Witness
A Threefold Appeal from the Editor
In the last issue of 1920, over 100 years ago, the editors of The Lutheran Witness made a threefold appeal to their readers. The first was simply a reminder to pay their subscription dues to continue receiving LW without interruption. We likewise encourage you: Please continue your subscription.
Second, the editorial committee encouraged congregations to subscribe all of their members to the magazine. Where possible, the congregation should — according to our forebearers — purchase the subscription for every member from its own treasury so that it would "reach every home in the congregation." Where this is not possible, the congregation should at least appoint a "subscription agent" that would encourage members to subscribe and pay their dues.
Third, the editorial committee encouraged the young people's societies to purchase subscriptions to LW for their local public libraries. Already at that time, 159 American city libraries subscribed to LW. The editors wanted more libraries on that list as a way of publicizing Lutheran doctrine.
The editorial committee concluded the letter by saying:
Believing, as we do, that our paper is an exponent of apostolic Christianity, we do not hesitate to assert our belief that such publicity will be productive of good among our Lutheran membership and in the community at large.
We, today, believe the same. The Lutheran Witness exists to "contend for the faith that was once for all delivered to the saints" (Jude 3) and to help "guard the good deposit" (2 Tim. 1:14) handed down from Christ, through His apostles, to the church. We believe, teach and confess this faith on every page of the magazine, and so we also believe that the more this publication is spread throughout the churches of The Lutheran Church—Missouri Synod (LCMS) and this nation, it can only serve the good of Christ's church.
Now, we are not certain that purchasing subscriptions for the local public library is the best use of resources in these days, though we certainly would not complain should you decide to do so. Today, we would ask you to "like" our Facebook page and "share" our content online.
But we wholeheartedly and resoundingly support the enrollment of your entire congregation to LW. This magazine, this official "organ" of the LCMS, exists to teach the faith, to help you learn to interpret the world from a Lutheran perspective. Our world bears incredible hostility to those who believe and confess the truth of God's Word. And, we face a daily, hourly even, assault from the world. With all the content we consume from places such as YouTube, Facebook, Twitter or Instagram, Satan constantly tempts us to focus on something other than the message of the cross. We must intentionally place before our eyes and the eyes of our fellow believers in Christ those things that show us our sinfulness and show us the Savior who died to redeem us from that sin.
Your entire congregation needs this. If possible, we encourage your congregation to subscribe all its members to LW. You can encourage your congregation as well. While such enrollment would help us provide more teaching, we are not making this appeal for financial reasons. This magazine teaches something you cannot get from secular magazines, websites or books: the message of Christ and Him crucified for your sins. You need this message; your fellow believers need to hear it too.
This will also benefit the church. We are under no illusion that having LW in every LCMS home would suddenly or miraculously bestow a perfect unity upon the church; only the Word of God can create such unity. We do believe that our beloved church would benefit if we are at least all "on the same page" in our Synod's magazine.
We have been working hard behind the scenes over the last year to put together an incredible magazine for next year. We have a great new design, and we are bringing fiction works to LW in a series of stories written by Katie Schuermann. You will not want to miss it.
Thank you for reading The Lutheran Witness.