by Kim Plummer Krull
Military chaplains, coffee drinkers, African youth.
These three groups seem to share little in common, but all are involved with LCMS World Relief and Human Care projects that reach out to people in need with Christ's mercy.
Such a diverse group illustrates the variety of partners with whom the Synod's mercy arm works hand in hand—from individual Lutherans to global ministries.
"Our Synod is blessed with many people who have talents and expertise they want to share, and we are blessed with wonderful organizations dedicated to sharing the Gospel," said Rev. Matthew Harrison, LCMS World Relief and Human Care executive director. "When we work together, we strengthen our Lutheran capacity to meet needs in body and soul, for today and eternity."
Here, then, is a look at just three of the many partners that collaborate with LCMS World Relief and Human Care to, in the words of the ministry's signature slogan, share "mercy forever."
Operation Barnabas: Equipping Congregations to Support Reservists.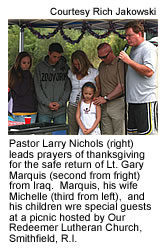 Throughout the 12 months that Lt. Gary Marquis served in Iraq, his fellow congregants at Our Redeemer Lutheran Church, Smithfield, R.I., prayed for his safe return in each Sunday service.
And when the Massachusetts Army National Guardsman's tour ended this summer, his congregation welcomed him home at the church picnic, thanking Marquis for his service and thanking God for answering their prayers. They presented the serviceman and his wife, Michelle, with a certificate for a weekend getaway.
"These soldiers are members of our very own church family, men who are in harm's way," said Rev. Larry Nichols, pastor at Our Redeemer, which continues to pray for two congregants still serving in Iraq. "We want them to know they arein our prayers, just as we pray for all our soldiers, for our nation, and for an end to war."
That's one example of the congregational support for LCMS Reserve and National Guard personnel that is the goal of Operation Barnabas, a new initiative by Ministry to the Armed Forces (MAF), operated under the auspices of LCMS World Mission, and LCMS World Relief and Human Care.
The initial focus is to equip congregations to assist pastors called to active duty as Reserve or National Guard chaplains. The long-range vision is to develop a network of congregational support for all LCMS Reserve and National Guard members and their families, from pre-deployment through active duty, but with special focus on the veterans' return and re-adjustment to civilian life.
The LCMS is one of the first national church bodies to address the role congregations can play in helping to ensure a positive re-entry following active duty, according to Ch Mark Schreiber, MAF director.
"Everyone who goes into a war zone and returns home needs a period of readjustment," Schreiber said. "Too many Vietnam veterans returned and were not taken care of. Today, we're more sensitive to those needs and how we as a
church can help."
Between 10,000 and 20,000 LCMS members are believed to serve on active or reserve duty, and 105 LCMS pastors serve as Reserve or National Guard chaplains, with anywhere from 12 to 15 in a war zone at any given time.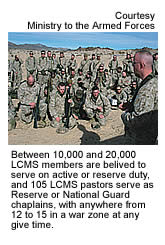 Smoothing the transition for pastors from active duty back into the pulpit is the first priority of Ch Mike Moreno, Operation Barnabas project manager. "The Gospel is deep and rich and gives us strength, but chaplains and pastors are still human beings who get tuckered out," said Moreno, a former Navy chaplain who served 71/2 years on active duty, including in Iraq. "They need a little down time to reconnect with their families and catch their breath."
Moreno encourages congregations whose pastors are in the Reserve or National Guard to prepare for their pastor's possible deployment. That includes discussions about candidates who can serve as interim pastor and how a congregation can best support the pastor's family if he is called to active duty.
Operation Barnabas also aims to help congregations reach out to veterans who suffer from post traumatic stress—anxiety that can be triggered by combat. But while all returning soldiers need transition time, most will not struggle with Post Traumatic Stress Disorder, which is a clinical diagnosis, said Rev. John Fale, associate executive director of LCMS World Relief and Human Care, and a certified pastoral counselor in the American Association of Pastoral Counselors.
"Congregations don't need to be 'on guard' about their pastors and members who return from active duty, but we encourage them to realize that a re-entry period is important and that resources are available that can offer support," Fale said.
The new initiative focuses on the reserve branches because they typically don't have access to the resources active-duty military are provided, according to the Operation Barnabas partners.
Named for the apostle who accompanied Paul on his first missionary journey, Operation Barnabas will be introduced near Veterans Day. That's an especially appropriate time, Moreno says, for LCMS members to say two important words to military men and women.
"Tell them 'thank you.' They are small words, but they mean everything to anyone who serves our country."
For information about Operation Barnabas, call MAF, (800) 433-3954, Ext. 1337.
Don Cochran: Helping Brew 'Coffee with a Purpose'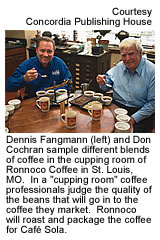 When Don Cochran contacted LCMS World Relief and Human Care, the retired IBM marketing executive knew nothing about an ambitious project that was brewing but needed help moving off the backburner.
He and Rev. Matthew Harrison, LCMS World Relief and Human Care executive director, met, of course, over a cup of coffee.
"I was looking for a way to give back and help out, Matt had this vision, and, well, here we are," said Cochran, a 66-year-old grandfather and member of Holy Cross Lutheran Church, Collinsville, Ill.
"Here" is the launch of Café Sola, the "coffee with a purpose." LCMS World Relief and Human Care, the Synod's mercy arm, and Concordia Publishing House (CPH) teamed up to introduce the new coffee to congregations as a way to raise funds to help people in need worldwide.
Knowing how much Lutherans enjoy a good cup of coffee between services and at fellowship events, Harrison conceived what is undeniably the ministry's best-tasting, most aromatic fund-raising effort ever.
For expertise in distribution, marketing, and customer service, LCMS World Relief and Human Care turned to CPH.
Cochran, a 32-year marketing and sales veteran with international expertise, helped turn the project from simmer to serve.
"Don brings a lot of helpful ideas to the table about what consumers might want to know, about getting the word out, and other things that we, who are involved from the ministry perspective, might not think of," said Dennis Fangmann, LCMS World Relief and Human Care director of operations. "He's a great example of using his Christian vocation to help the church and serve God's kingdom."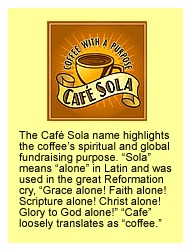 Cochran spent months researching coffee growing, roasting, grinding, importing, and distributing. He became an expert on the Rainforest Alliance, which ensures coffee growers meet standards for rainforest conservation and fair treatment for workers. (Café Sola Regular Blend is certified by the Rainforest Alliance.)
In July, this suddenly busy retiree traveled to Orlando, Fla., to help sample Café Sola with chaperones at the LCMS Youth Gathering. "It was a hit," Cochran said. "They loved the idea that this was a high-quality coffee with the specific purpose of helping Lutheran human-care projects."
Nearly 20 percent of the Café Sola purchase price goes directly to LCMS World Relief and Human Care projects that reach out to people in 51 countries.
That's what motivated Cochran to give up time on the golf course and climb back into the marketing saddle. "I've had a career and experiences I never dreamed I would. I have a loving family and wonderful grandchildren," he said. "I believe everything we have comes from the Lord, and that we all can find a way to give back."
Café Sola can be ordered through CPH at (800) 325-3040 or online at www.cph.org/cafesola.
The Diakonic Foundation: A Family Initiates Help for South African Youth
Earlier this year, Utah businessman Kevin Andrews, his wife, and children held a family meeting. They discussed how they could use their gifts from God to make the world a better place.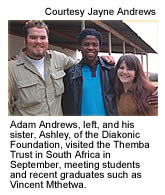 Andrews is an owner and executive vice president of Universal Business Insurance. Within months, he and his family had established a new charitable foundation and, with the help of their congregation—Grace Lutheran in Sandy—and their friends, were spearheading an ambitious effort to bring a concert to Salt Lake City to benefit South African youth.
"Kevin is a successful businessman who is using his spirit, energy, and drive as an entrepreneur to live out his faith," said Rev. Mark Below, the family's former pastor at Grace Lutheran.
Now a principal gifts officer and member of the development team for LCMS World Relief and Human Care, Below knows the Andrews family well. "The name they chose for their foundation is only one example of how important their faith, their church, and works of mercy are to them."
The family's new Diakonic Foundation was inspired by diakonia, the Greek word for service. For their first charitable recipient, the family chose the Themba Trust, a South African faith-based organization that strives to equip young people to "live purposefully for Christ" on a continent where some 46 million children (nearly half the schoolage population) never have set foot in a classroom, and in a country where approximately one in eight is HIV-positive.
The family discovered Themba through Below and LCMS World Relief and Human Care. They learned how Themba's two residential high schools provide a strong Christian education on a shoestring budget. They were drawn to the students' love of music despite a lack of formal instruction.
In mid-September, the family trekked to South Africa for a look at ministry needs and opportunities. "You can find people who need assistance almost anywhere you go, but our family's heart was touched when we learned of the needs of South Africans," said Andrews, whose clan includes his wife, Jayne; daughter, Ashley, 23; and son Adam, 21. "[South Africans] do not have the means to support themselves or to improve their lives for the long-term."
Also in September, Grace Lutheran (which is celebrating its 25th anniversary) and the Diakonic Foundation partnered with LCMS World Relief and Human Care to bring jazz artist Erin Bode and the Themba Girls to Salt Lake City for a benefit concert. Proceeds from the event and sales of the new "Themba Girls with the Erin Bode Group" CD/DVD will help Themba provide scholarships for needy students and build a Performing Arts Center.
Funds also will help construct Themba's new Orphan Support Center, a project Andrews developed with LCMS World Relief and Human Care.
"So many children in Africa have lost their parents that groups of siblings live together without any adults," said Andrews. "Instead of sending the children off to orphanages and having them possibly lose their family property to the government, the center will help the family stay intact by offering a clinic, meals, and other support services."
The Themba Trust covers the education costs for "sponsored learners" from extremely poor families and for students who lose their family breadwinner— two groups that account for more than a third of the schools' total enrollment of some 500 students.
"When we learned about Themba, we knew this was an opportunity, with God's help, to really make a difference," Andrews said.
To learn more about the Themba Trust or "The Themba Girls with the Erin Bode Group," visit www.ThembaGirls.org.
—
" />