by Rev. Terence Groth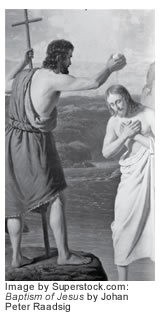 Our Lutheran Confessions urge us to remember exemplary saints for two reasons: (1) "so that we may strengthen our faith when we see how they experienced grace and how they were helped by faith"; and (2) that we may "take the saints' good works as an example" (AC XXI:1). Jesus testified of John the Baptizer: "Among those born of women there has arisen no one greater than John the Baptist" (Matt. 11:11 ESV). Our liturgical calendar does well, then, in urging us to remember John the Baptizer and his martyrdom. We do so on Aug. 29.
But what qualifies John, or anyone, to be called a saint? Who are saints in God's eyes?
Ps. 149:1, 5, 9; Rom. 1:7; 2 Cor. 1:1:
---
How encouraging to discover that even the Corinthian believers with all their sins are called saints—because they are "sanctified in Christ Jesus and called to be holy, together with all those everywhere who call on the name of our Lord Jesus Christ" (1 Cor. 1:2 NIV). Even you and I are saints in God's eyes because He has made us holy through Jesus' forgiveness and set us aside as servants to do His holy work!
Certainly, John is a good example of one who obtained God's undeserved favor. Even before John was conceived, for what gracious work did God set him apart? Luke 1:15–17; 44:
---
When John was just eight days old, the Holy Spirit led John's father, Zechariah, to prophesy concerning the work this child was set aside to do. How does Zechariah describe it? Luke 1:76–79:
---
Although John was highly favored and blessed by God even before he was born, this did not guarantee that he would lead a privileged life. How is the Baptizer's lifestyle described in these passages? Luke 1:80; 7:24–25, 33; Matt. 3:4:
---
Nor did John have easy work to do. What tough message was he called to proclaim to sinners?
Matt. 3:1–3, 7–10; Luke 3:7–14:
---
What happened to John because he faithfully carried out his calling? Mark 6:17–29:
---
John's ministry was certainly challenging, even causing him to doubt whether he had fulfilled his mission (Luke 7:18–23). What message that he himself proclaimed sustained him? Mark 1:4; Luke 1:77–79; 3:6, 18:
---
John 1:6–18, 29–34; 3:31–36:
---
Not all believers will have as tough a vocation as John or be called to make the ultimate sacrifice he made. But all are called to witness (Acts 1:8) and to carry their own cross (Mark 8:34–35). Paul and Barnabas, no mean saints themselves, confessed, "We must go through many hardships to enter the kingdom of God" (Acts 14:22 NIV). Through such suffering God produces saints—forgiven sinners who trust in the cross of Christ for justification, sanctification, and glorification! It happens as they behold "the Lamb of God who takes away the sin of the world" (John 1:29 ESV). So John the baptizer reminds us. Thank God for such saints and the Savior who gives them!