by Sandy Wood
From Chicago to Ghana and in between, a ministry carrying Christ's love and a cushioned place to sleep is spreading to homeless people through Lutheran congregations and beyond.
Each sleeping mat is approximately 3 feet by 6 feet, contains between 500 and 700 plastic bags, and takes approximately 35 hours to make.

A close-up shows the crocheted plastic bags woven together to create a sleeping mat for the homeless.

Photos courtesy
Immanuel Lutheran Church
It's a pretty simple concept. With a pair of scissors and a crochet hook, used plastic shopping bags are woven into sleeping mats that roll up with their own carrying handles. Some of the mats get Portals of Prayer or other devotionals tucked inside.
At Lutheran Church Charities in Addison, Ill., Director of Operations Vida Johnston says the mats have been sent to Haiti, Ghana, the Gulf Coast, as well as locally to a soup kitchen and to other people who live on the streets of Chicago.
Since the organization put the "Bag Mat Project" with a video of how to make the mats on its website, "we've had responses from everywhere–New York, California, Florida, Texas, Georgia, Pennsylvania," Johnston says. In many places groups are taking on the project and placing mats in their local areas, she adds.
At Immanuel Lutheran Church in Palatine, Ill., making the sleeping mats is a team project and a fellowship opportunity for the church's 50s Plus group.
"We ask for bags at church, and we really haven't asked since December," says Charlyn Hetzel, a member of Immanuel. "But they're still coming in. There's always a good supply."
That the bags are always in supply is an indication of the support for the project, since each mat requires 500 to 700 bags. It's time-consuming, but that's where the fellowship comes in.
"Within our group, it's great fellowship," Hetzel says. "We can solve the world's problems if we have to while we're making them."
Some of the people pray over the mats as they're making them, Johnston says.
"It's one of those ministries you can start pretty quickly with low cost," says Brenna Nunes.
Nunes, now director of youth ministries at Immanuel, was at First St. Paul's Lutheran in Chicago a few years ago when the congregation there started making the mats.
"It's so easy to get bags, and it brings people together," she says. "It's easy to do even during a Bible study or a meal."
Making the mats requires cutting the bags into strips, knotting the strips together to make one piece–sort of like a plastic version of yarn–and crocheting. Only one stitch–the single crochet stitch–is used.
Depending on what's needed, sometimes when the groups gather, the members fold or cut the bags, and take the materials home to crochet. Sometimes, students from a local Catholic high school have cut the bags and delivered them to the church for the crocheting.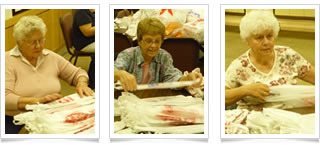 50s Plus Group members (from left to right) Leona Krause, Irene Vogeler and Charlyn Hetzel volunteer their time to sort and fold plastic bags to make the sleeping mats.

Photos courtesy Immanuel Lutheran Church
"It's a great project for a combination of older groups and youth groups," Johnston says. "The kids can cut the bags and tie into yarn, and the ladies crochet them."
It's hard to say exactly how many mats have been made, since groups throughout the country have been taking on the challenge. But the women at Immanuel have made well over 100.
"That's a lot of bags to keep out of landfills in this country," says Tom Schroeder, a member of Immanuel who is involved with outreach at the church. And the handles and bottoms of the bags, which are not used in the mats, are recycled.
The mats are waterproof and provide warmth as well as protection from the cold ground.
"The women are plastic-bag connoisseurs," Schroeder says. "They know which bags work, and which are more difficult to work with."
Once they get the knack of which bags work best, some of the women get creative with color schemes and patterns.
50s Plus group working on mats

Photo courtesy
Immanuel Lutheran Church
"I've been doing random colors," says Leona Krause, who belongs to the Immanuel group. "But some do blue, some yellow, some yellow and brown, some just brown."
Jo-Ellen Clawes, who recently finished her 24th mat, once made one out of scraps of different colors she had left from previous mats.
"The man I gave it to was telling everybody he had the prettiest bedroll on Michigan Avenue," she says.
Clawes is a Catholic who began meeting with the 50s Plus group at Immanuel after hearing about the sleeping-mats project.
She is active in the American Legion Auxiliary, and takes mats to homeless veterans in Chicago. The veterans now know she comes, and sometimes request mats if she runs out.
"They 'God bless me' all over the place," she says. "I just can't tell you how much they appreciate it and how much they need it. I can't tell you all the sweet smiles and hugs I get."
Johnston says that at Lutheran Church Charities, an LCMS World Relief and Human Care Recognized Service Organization, they encourage people interested in taking on this project to find a place in their own communities that need the mats so that they can deliver them personally and meet the people receiving them.
"When we have given these mats to people, the response is tremendous," she says. "They notice that it's something that has taken someone a lot of time, that it's done in love . . . that people are spending time making something and giving them in the name of Jesus Christ makes an impression on people.
"And those doing it do it because of their love for Jesus Christ and what He has done for us. Their love is a tremendous witness."
To see the video on how the mats are made, visit www.lutheranchurchcharities.org.
—
About the Author: An award-winning reporter and editor, Sandy Wood is a member of Chapel of the Cross Lutheran Church, St. Louis, Mo.
September 2010