by Albert B. Collver III and Kim Plummer Krull
Throughout its history, LCMS World Relief and Human Care (WR-HC) has cared for people in body and soul in response to disasters, hunger, poverty and other needs. Apart from disasters, some of the best-supported programs involve the care and help of children, such as the 1001 Orphans Program. This program also demonstrates how a project focused on Mercy can be integrated with Witness and Life Together.
Rev. John Fale vividly recalls the faces of hungry and homeless children from a 2003 trip to Kenya. "Everywhere we looked, we saw these street children, mostly orphans whose parents had died from HIV-AIDS," says Fale, interim executive director with WR-HC, who served on a team that trekked to Africa at the request of the Evangelical Lutheran Church in Kenya (ELCK). "Many had suffered abuse—physically, sexually, emotionally." After this trip, WR-HC began to work on ways to assist these Kenyan children in need (Mercy) by partnering with the ELCK (Life Together).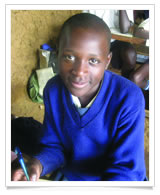 As the needs of children in Kenya became known among LCMS members in the United States, other opportunities for Life Together emerged. Over the years, WR-HC has partnered with North Dakota volunteers to open orphan rescue centers (or halfway houses) in Kenya through Project 24 and start an orphan support program in partnership with the New England District. In 2009, the Synod's mercy arm expanded orphan care through 1001 Orphans (www.lcms.org/1001) in partnership with Concordia Lutheran Ministries (an LCMS Recognized Service Organization based in Cabot, Pa.) and carried out by the ELCK, an LCMS partner church.
Through this home-based care program, more than 400 children have what generous donors and ministry partners want for every child—a caring family and the love of Christ. (Sponsors include individuals, families and congregations who provide $400 annually for "their" orphan. Many children still need sponsors, and gifts of any amount strengthen general program support.)
At the rescue centers, the children participate in Bible and catechism clubs where they compete to develop dances, chants and songs based upon Scripture verses and Luther's Small Catechism. This happens under the direction of Rev. David Chuchu, 1001 Orphans project administrator for the ELCK. While receiving care for their bodies (Mercy), the children learn the Scriptures and the Small Catechism (Witness). The entire person, body and soul, is cared for. In addition, a project designed to take care of the needs of underprivileged and orphaned children in Kenya (Mercy) works to build up a Life Together between the LCMS and the ELCK, as well as among RSOs, districts and volunteers within the LCMS.
The 1001 Orphans Project in Kenya (which is working to expand into other countries) is not the only example of Mercy fostering Witness and Life Together. In fact, the goal of all LCMS WR-HC projects is to foster the three-fold emphasis as the love of Christ is shared in support of the entire person, body and soul.
—
> Read more about our Lutheran foundation for mercy in "Theology for Mercy," written by Pres. Matthew C. Harrison when he was WR-HC executive director. (Request the booklet or download a copy at www.shop.lcms.org.) To learn more about WR-HC mercy work, visit www.lcms.org/worldrelief or call 800-248-1930, ext. 1380.
> What can I do to help contribute to Mercy? Go to www.lcms.org/projects
> Go to www.lcms.org/elckbibleclub to watch students from the Othoro Rescue Center recite Luther's Small Catechism.
May 2011