by Paula Schlueter Ross
Anita Olvera's passion for her 'family' opens doors—and hearts
Anita Olvera still has trouble thinking of what she does as "evangelism."
As the self-described "social-ministries person" at Redeemer Lutheran Church in Fresno, Calif., Olvera took the congregation's "adopt a family at Christmas" ministry to a new level when she suggested "adopting" a family for an entire year.
So last January a local social-services agency put the congregation in touch with a young Hispanic couple, former gang members, with two young daughters.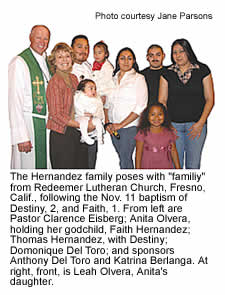 Armed with grocery-store gift cards, children's clothing, and other items provided by Redeemer members, Olvera drove across town several times a month to visit Domonique Del Toro, her fiancée, Thomas Hernandez, and their daughters, Destiny and Faith.
As the "face" of Redeemer, Olvera routinely drove Domonique and the girls to doctor appointments, helped the couple find jobs, gave parenting advice, and provided a "listening ear."
A year later, Redeemer Pastor Clarence Eisberg has baptized the two Hernandez children, and Olvera has no intention of ending her relationship with the family. After all, she's now Faith's godmother and considers the Hernandez family as friends.
"My goal was to try to get somebody to a place where they could take care of themselves," Olvera says, something she "would never have thought of as being evangelism."
But along with the close relationship that developed between her family and the Hernandez family, Olvera says her desire to see children she cared about getting baptized seemed "natural."
Del Toro says Olvera has "opened up a lot of doors" for her, encouraging her to finish her education and think about the future, and she thinks of her "almost as a mother."
"When I'm really down, I call her," Del Toro says. "I can talk to her about anything and I just feel better."
She says she appreciates the entire Redeemer congregation, too. "If we didn't have them, we would be struggling a lot. They're very inspirational to us, and we thank them every day."
Eisberg says the congregation's relationship with the Hernandez family is just one example of its "genuinely friendly personality," a result, he says, of having up to 90 percent of the 170-member congregation in Bible study and encouraging lay people to get involved in ministries they're passionate about.
Bible study helps members "find out their purpose in life" and makes them more aware of outreach opportunities, Eisberg says, and Redeemer offers nearly a dozen Bible-study options, including classes for beginners, teens, women, men, older adults, and those who are considering joining the church.
"I believe the Word is what changes people," says Redeemer member Beverly Huggins, who helped organize an "outreach luncheon" last fall at a local restaurant. The luncheon drew 50 women, including 31 nonmembers. Several are now involved in other Redeemer activities, Huggins says.
The Synod's Ablaze! effort is about "building relationships," says Chuck Huggins, Beverly's husband and chairman of the congregation's evangelism board. He believes Ablaze! is as much "about the people inside the church as it is about the people outside the church."
"Get people into the Word, and the Word gets people inspired," he says.
Reaching out to others in faith, notes Eisberg, "begins with who you are as a congregation—do you genuinely care about people and demonstrate that?"