Outreach tools, resources and idea starters . . . to help you share the hope of our faith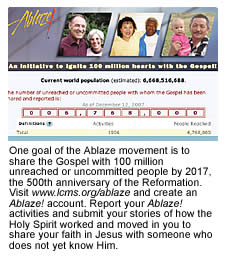 LCMS districts, ministries, congregations, partners, and individuals offer an array of tools to help us share the Good News of Jesus Christ in our homes, neighborhoods, and nation. Here are a few resources selected by Rev. Scott Snow, LCMS World Mission national director of outreach. Visit www.lcms.org/ablaze for his expanded list and to find links and contact information of partners offering resources for you today.

Personal Evangelism Tools

The Gospel Story by Colors Bracelet is a colored silicone bracelet complete with a laminated card. You can wear this Gospel-sharing guide wherever you go and always be ready to share Christ's saving grace. Order online at www.ctainc.com or call 1-888-285-3598. Be sure to use the discount code SSGOSP.

Jellybean Easter eggs proclaim the true meaning of Easter. Each plastic egg contains colored jellybeans that share the Gospel story and a special Easter message. A children's Easter sermon is also included with each order. Order this item online at www.creativecommunications.com or call 1-800-325-9414.

The EvangeCube® is an easy-to-use picture puzzle that adults and children alike can use to share the Gospel of Jesus Christ. It is also a great tool for presenting the Gospel across cultures or to nonreaders. Visit www.e3resources.org to order this item and to view a four-minute demonstration video.
The Gospel According to John (NIV) is a handy carry-along Gospel to keep and refer to, or hand out, as a witnessing tool. Order online at www.ibs.org or call 1-800-524-1588.
The Pocket Cross with Card reminds us of what it means to be a Christian. Order this item online from Concordia Publishing House at www.cph.org or call 1-800-325-2040. Ask for item SO1487.
The John 3:16 coin is a metal coin with a cross etching. The words of John 3:16 are printed around the edge of the coin. Order at www.creativecommunications.com or call 1-800-325-9414.
For by Grace You Have Been Saved is a bronze metal piece with Luther's seal etched on one side and Eph. 2:8–9 on the other. Order this item online at www.creativecommunications.com or call 1-800-325-9414.
The God's Word translation (New Testament) is a pocket version of the New Testament great for sharing with others. The God's Word translation is easy for nonbelievers to understand. Order online at www.godsword.org.

Tools for Congregations

Participate in an Ablaze! prayer vigil. Download or view the materials at www.lcms.org/ablaze or call 1-800-433-3954.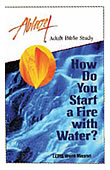 Commit to the eight-session Bible study, "How Do You Start a Fire with Water?" published by CPH. This adult study is perfect for your Sunday school hour or small-group study. Order your copies online at www.cph.org or call 1-800-325-2040.

Become a registered Ablaze! partner congregation and add a Web icon link from your Web site to the Ablaze! Web site. Also, be sure to post your faithsharing stories online to encourage others. Register and download a Webready icon at www.lcms.org/ablaze or call 1-800-433-3954.
Highlight quarterly "Faith-Sharing Tools" during a worship service. Prayerfully distribute these guides at the conclusion of the service, encouraging every member to use them in sharing their faith that week.

Take the "50 Days Ablaze! Outreach Journey." The "Ablaze! Crossing the Jordan" DVD sent to each LCMS congregation in the fall of 2005 includes these materials. For more information about the seven-week series, including sermon notes and Bible studies, visit www.stlukecabot.org or www.lcms.org/ablaze.
Host an "Equipping to Share" workshop from Lutheran Hour Ministries (LHM). Contact LHM at 1-800-944-3450 or send an e-mail to equipping@lhm.org.
Promote involvement in short-term mission opportunities. Hundreds of individual and team opportunities are waiting to be filled worldwide! Call 1-800-433-3954 or visit the LCMS World Mission Web site at www.lcmsworldmission.org/service.
Encourage and promote electronic subscriptions to the "Evangelgram," "Mission News," and other mission lists. Go to www.lcms.org and click on the "E-news" button to subscribe.
Order the "Congregational Tool Kit" from Lutheran Hour Ministries. Learn more from LHM's Web site at www.lhm.org.
Use the "Friendship Ablaze!" materials. Six weeks of Bible studies, sermon notes, children's messages and more building up to a Friendship Sunday experience. Download or view the materials from the Center for U.S. Missions at www.friendshipablaze.org.
"Daughter" a new congregation. Contact the Center for U.S. Missions for more information at www.centerforusmissions. org or your local district mission executive.
Invite a team of trained evangelism volunteers from The 72—Partners on the Road to work alongside your congregation for three weeks to begin, revitalize, or expand your outreach ministry. Learn more at www.lcmsworldmission.org/the72 or call 1-800-433-3954.
Sign up for "We Can! Pastor and People Planning Big for Rural America." Go to www.spife.org or call 1-888-463-5127.
—