by Roland Lovstad
Light of Christ: Sharing the faith on Sunday and every day — in Mandarin Chinese and English
In response to a call to serve, a district and a suburban congregation reach out to a growing Chinese community with the Good News of Jesus.

On a Sunday last November, at a crossroads in mid-America, God provided a perspective on the Church in mission. Here, at Light of Christ Lutheran Mission, the predominant language is Mandarin Chinese as people gather in the east building of Immanuel Lutheran Church, Olivette, Mo., on the western edge of St. Louis.
At the high point of this morning, about 150 people pack a central commons for worship and celebrate the baptisms of four adults and two children. As the pastor delivers the benediction, aromas of food drift from the nearby kitchen. It is time for the fellowship meal, a part of every Sunday's gathering.

All morning has seen hectic activity. Adults and families arrive: Some come for the three levels of English as a second language (ESL) classes. About a dozen adults meet in the Chinese-language Bible class. A pre-citizenship class meets in the same room while others set up for today's potluck meal. Elsewhere, two students meet with a tutor (typically there are four) to learn Bible stories that are essential background for confirmation. Visitors inquire about the ESL classes and worship. Meanwhile, youngsters—often more fluent in their English—attend Sunday school at Immanuel's main building.
Over the past 18 months, the mission has blossomed. Worship attendance has grown from 40 to 120-plus with a small a core of regular members. Others are seekers, visiting several area Chinese churches. Many are university students from China, Hong Kong, and Taiwan who want to learn about American culture.

More than 60 people—mostly adults—have become new Christians through Baptism since the mission began in 2000. Two-thirds of the baptisms have been performed during the past 18 months.
"God guides the way," says Dr. Paul Shaw, pastor of the mission since July 2006. "We share the Gospel; they respond. Only by grace. The Holy Spirit touches their hearts. It's beyond our ability and our imagination."
Rev. Paul Rueckert, senior pastor at Immanuel, sees the Lord working here: "China refuses missionaries; yet economics and relationships between our counties allow us to bring these Chinese students here, where they encounter Jesus Christ and go back. Every day we are truly awed by God's working in all this."
The mission springs from seed planted by Shiu Ming Lau, a student at Concordia Seminary. A Cantonese who spoke Mandarin, Lau saw a growing Chinese community in the Olivette area, and he urged the Missouri District to start a mission. In 2000 the district asked Immanuel to host the mission. (The St. Louis area Chinese population is now estimated to be more than 40,000.)
In 1999 Immanuel purchased a former daycare building that now provides space for the mission. The building also houses a preschool, kindergarten through third-grade classes, and two youth rooms. The 163-year-old congregation has 1,100 members and 160 students in its elementary school.
Lau served his vicarage at Immanuel and, following ordination, was called as the first LCMS missionary to the Chinese community in St. Louis. The mission sprouted, growing from his family of four to about 40 people before he accepted a call in January 2006 to serve a large Chinese congregation in San Francisco.
A month later Immanuel saw its senior pastor, Rev. Ray Mirly, elected district president. Rueckert, who was then associate pastor, said Immanuel chose to focus on a pastor for the mission, and the Chinese members felt strongly that they needed a Chinese-born pastor.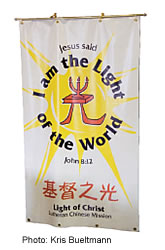 "We took a leap of faith in saying we need to follow their lead," Rueckert recalls. "It was 'O Lord, please bless us. We have to trust Your leading.' Well, He led us to Pastor Shaw."
"I have a burden for bringing the Gospel to the Chinese people," explains Shaw, who served on a Gospel team and organized Christian fellowship as an undergraduate in Taiwan. He taught at the college level before attending Concordia Seminary, Hong Kong. Ordained in 1988, he served Eternal Life Lutheran Church in Taipei from 1988 to 1991. Most recently, he taught social work, counseling, and marriage/family-life classes at Chang Jung Christian University.
Shaw brings both an academic and parish-ministry background. He has also earned master's degrees in chemistry and counseling. In 1999 he earned a doctorate in education from the University of South Dakota. His academic experience helps him connect with universities and their students.
During the week, Light of Christ is a resource center for the Chinese community, helping with translation, legal issues, and immigration questions. Adjusting to new cultures is difficult for families, so the mission also offers a Christian parenting class led by a couple from Webster Gardens Lutheran Church. The 18-week video series is Bible-based, allowing opportunities for Christian witness as it assists parents.
Shaw emphasizes the need for ongoing prayer for these new Christians. "Sometimes their family members are not supportive of their new-found faith," he adds. "I really appreciate the support of the brothers and sisters in Immanuel."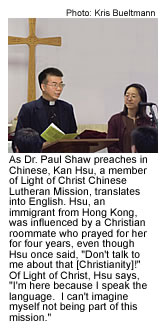 Assisting the mission is a committee of Immanuel members who find teachers for ESL classes and arrange sponsor families who pray for and give Bibles to the newly baptized Christians. As district funding declines, the committee seeks grants and donors to support the work. It is eager to share a DVD with organizations and individuals who are interested in helping to support the mission.
"Who would have thought that we would have 140 people worshiping in Mandarin Chinese, and we would be growing in leaps and bounds?" asks Norbert Loebs, who chairs the Light of Christ Funding Committee. "It's incredible! Yet we have to find the funds for this mission to go forward."
Still, the mission is exciting to Rueckert. "Ten years ago, nobody could have dreamed that Immanuel would be doing this Chinese outreach," he says. "Some are relocating, and some are here only temporarily, either as students or as parents of the students. And they go back!
"This is the exciting thing about this mission—we are sending Christians back to China."