by Kim Plummer Krull
We were spending a lot more than we were receiving," says South Wisconsin District (SWD) President Rev. John Wille, explaining as simply as possible why that district had fallen into an operating deficit of $880,000 and a capital indebtedness of $5.5 million when he became president in 2006. Today, the SWD is back on a smoother financial track, operating within a balanced budget and enthusiastically reaching out through local congregations as well as national LCMS ministries.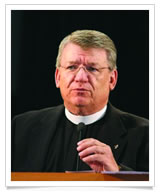 In this edited interview with The Lutheran Witness (LW), Wille (JW) discusses how his district of 215 congregations and 120,000 baptized members shifted financial gears and now touches "more people and more cultures with the Gospel than ever before."
LW: How did the SWD right its financial ship?
JW: We locked in austerity measures, eliminating district positions we couldn't afford. We changed some of our value system to better reflect the reason why the district exists: for the purpose of helping our local parishes carry out their mission of reaching the lost. Our capital indebtedness is now $3.5 million. We have made the commitment to spend only what the congregations entrust to us. Every one of those dollars is very precious so we use them wisely.
LW: One might assume that the SWD, after going through tough financial times, now holds tightly to financial resources and is reluctant to share beyond the district. How does the SWD support the Synod and why?
JW: We support the national church, although not at the level that we once did. We hope to improve. We have very enthusiastic support for the Dominican Republic as our foreign mission field in cooperation with LCMS World Relief and Human Care (WR–HC), LCMS World Mission (WM) and Bethesda Lutheran Communities. Over the past few years, we have raised over $100,000 in the SWD for work in the Dominican Republic. It's exciting. We tell our congregations that the best way to reach people is to channel their support through those who are trained, experienced and who can see that the work is accomplished.
At the same time, we have been able to reach more people of various cultures here in South Wisconsin than ever before. People may think our district is primarily of German descent, but Hispanics and immigrants from Africa, Southeast Asia, China and other countries live here. Our newest congregation is the International Lutheran Church of Zion, made up of immigrants from the Democratic Republic of the Congo. They worship at Benediction Lutheran Church in northwest Milwaukee. Our congregations are our partners in reaching those cultures here. In those cases, they are our direct link to accomplishing our mission of getting out the Word to save the lost.
LW: How does your district act as the Synod in the SWD?
JW: It's easy for us to work here in the SWD, but we can't reach out into the world by ourselves, to the Dominican Republic, to Haiti, to Thailand and China. That's where our partnership with the LCMS is vital. We are able to accomplish so much more for the Kingdom working together than we ever could alone. [That work] is prayers and dollars, mission trips and partnerships. I don't have the expertise to coordinate that mission and tackle the challenges, for example, in the Dominican Republic. As Christian people with a heart and passion for reaching the lost, it is essential that we work together, that we cooperate and collaborate. It is what church is about.
The unrestricted monies that districts send to Synod have been trending downward for years. Other trends are more difficult to chart: (1) Congregations are sending less to districts; (2) Districts are responding to local opportunities; and (3) Designated gifts to Synod from individuals and congregations increased substantially through 2007 before beginning to decline. (See the chart in the article, "The Lord Gives. Christians Manage.")
LCMS District Pledges 2011-2012

Increase/(Decrease)

District
Pledge ($)
Pledge ($)
Percent
Baptized Members

Atlantic

59,500

(1,000)

(1.7%)

35,702

Cal-Nev-HA

175,000

(25,000)

(12.5%)

44,295

Eastern

73,000

(44,000)

(37.6%)

45,906

English

203,000

2,000

1.0%

57,418

Florida/Georgia

258,000

(87,000)

(25.2%)

62,450

Illinois-Central

552,000

(76,500)

(12.2%)

70,551

Illinois-Northern

667,274

(45,415)

(6.4%)

127,882

Illinois-Southern

249,600

(2,850)

(1.1%)

43,005

Indiana

745,000

(95,000)

(11.3%)

109,910

Iowa East

143,000

(7,000)

(4.7%)

43,210

Iowa West

754,650

(19,350)

(2.5%)

62,089

Kansas

543,000

(192,000)

(26.1%)

60,251

Michigan

1,883,250

(465,000)

(19.8%)

211,216

Mid-South

461,986

(17,054)

(3.6%)

28,839

Minn. North

612,136

5,536

0.9%

59,734

Minn. South

1,350,000

(50,000)

(3.6%)

127,679

Missouri

560,000

(90,000)

(13.8%)

138,631

Montana

134,000

4,000

3.1%

14,493

Nebraska

1,147,500

(27,500)

(2.3%)

107,562

New England

117,585

(7,695)

(6.1%)

19,030

New Jersey

50,000

9,500

23.5%

14,125

North Dakota

227,868

2,868

1.3%

21,813

Northwest

170,050

(99,450)

(36.9%)

65,387

Ohio

308,700

(21,300)

(6.5%)

63,550

Oklahoma

200,000

0

0.0%

21,937

Pacific Southwest

200,000

0

0.0%

99,206

Rocky Mountain

230,000

(30,000)

(11.5%)

53,520

SELC

206,000

2,000

1.0%

16,958

South Dakota

310,400

0

0.0%

30,672

Southeastern

490,116

6,410

1.3%

67,241

Southern

131,000 

0

0.0%

29,804

Texas

1,711,000

(143,100)

(7.7%)

132,988

Wisconsin North

645,000

(255,000)

(28.3%)

101,886

Wisconsin South

315,000

0

0.0%

116,773

Wyoming

151,000

10,000

7.1%

13,848

Totals

16,035,615

(1,758,900)

(9.9%)

2,312,111
—
---
Turning a Corner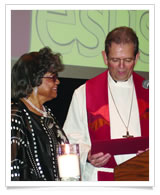 Like most LCMS districts, the Southeastern District (SED) has experienced a decline in giving from congregational budgets during the economic downturn. But despite financial challenges, SED congregations have enthusiastically supported the Fan into Flame campaign. At the same time, the district continues to increase giving to the Synod, making support for the national church a stewardship priority. In this edited interview with The Lutheran Witness (LW), SED President Rev. Jon T. Diefenthaler (JD) discusses how the district encourages healthy iving habits in an ailing economy and how district support for the work of the national church models stewardship that God has blessed. The SED includes 206 congregations and nearly 70,000 baptized members in Maryland, Delaware, Virginia, North Carolina and South Carolina, plus Washington, D.C. and York County, Pa.
LW: Despite challenging economic times, the Southeastern District has healthy giving habits. How have you helped your district grow in good stewardship?
JD: The SED has experienced a decline in income received from congregational budgets during the recessionary period that began in 2008. But from the beginning, we made a commitment to remain faithful to all our commitments to our new missions and their workers. We have also made efforts to stay connected to our congregations and their leaders. Since last fall, we have offered to conduct an "SED Sunday" in any district congregation to let the people in the pew know about the ways the mission continues to move forward throughout our district. We don't ask for money. We thank congregations for their support. Nearly 90 of our congregations have taken us up on this offer so far, and we expect more will do so. We are also looking for some good ways to conduct an SED "stewardship renaissance."
LW: It can be tempting to keep gifts close to home. How has the district encouraged financial support for the work of the national church?
JD: We have made financial support for the Synod a matter of stewardship for ourselves and for our congregations. Our board of directors made a promise before the economic downturn to increase the percentage of what we pass on to the Synod from our congregations by a half percent each year. We decided to keep that promise in 2008, and we have continued to do so each year since then, believing that if we want our congregations to act in a similar fashion with respect to the work of the church beyond themselves, we must set the example as a district. We also know that God will bless this kind of stewardship. In 2010, in fact, we finished the year in the black.
LW: Why is it important for districts to support the national church?
JD: For me, the driving force is the concept of partnerships. There are features of the work of getting the Gospel out to people in our world that may seem impossible for any of us to do all by ourselves, but [that work] can and does get done when we partner with one another as the district and the Synod. The work of the Gospel involves not just the local congregation but the cluster of congregations in the circuit, the district and the Synod operating in the global context of today's world.—Kim Plummer Krull
—
> The LCMS has 35 districts and roughly 2.3 million members. There are over 6,000 congregations in the LCMS.
> What can I do to help? Give to WMLT where needed most at www.lcms.org/projects
> District pledge information provided by the LCMS Accounting Department and Business services.
May 2011